President Biden was ripped by critics Monday when he made a statement suggesting the children of parents across the nation belonged to the whole country to raise rather than just their own families.
"There is no such thing as someone else's child. No such thing as someone else's child. Our nation's children are all our children," Biden said, quoting a former teacher during a speech in the White House Rose Garden honoring the 2023 national and state teachers of the year.
His statement drew sharp criticism on social media from politicians and parents alike, blasting him suggesting the state and the political left had ownership over the children of the country.
TRUMP CHEERS CNN'S FIRING OF 'DUMBEST MAN ON TELEVISION' DON LEMON: 'WHAT TOOK THEM SO LONG?'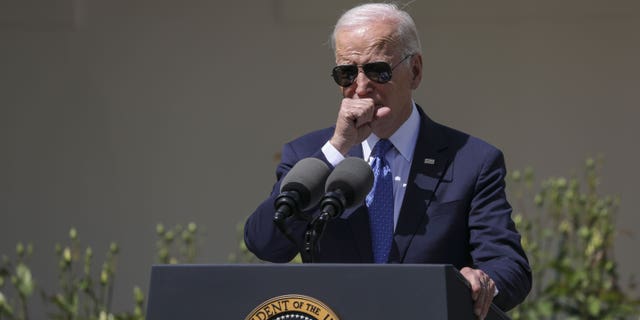 President Joe Biden speaks at the Council of Chief State School Officersâ 2023 Teachers of the Year event at the White House in Washington D.C., United States on April 24, 2023. (Celal Gunes/Anadolu Agency via Getty Images)
"This is that Hillary Clinton, it takes a village nonsense," one critic wrote, referencing former Democratic presidential candidate Hillary Clinton's controversial and highly scrutinized book,"It Takes a Village."
"As the great Senator Bob Dole said in 1996, 'It doesn't take a village to raise a child. It takes a family to raise a child,'" they added.
Sen. Tim Scott, R-S.C., told Biden he was "absolutely wrong" in his claim, while 1776 Project PAC, a group dedicated to electing candidates opposed to the teaching of "woke" subjects in schools, wrote, "The left believes they own your kids."
BIDEN'S 2024 CHALLENGERS USE DEMOCRATS' 'DEMOCRACY' SLOGAN AGAINST THEM, SAY PRIMARY IS 'RIGGED'
"Sorry but Hunter's on you," another critic wrote, appearing to mock Biden's son, Hunter, who has battled drug addiction and is currently under federal investigation.
"We do NOT CO-PARENT with the GOVERNMENT," parental rights group Moms for Liberty wrote, while Rep. Chip Roy, R-Texas, wrote that Biden's comments speak for themselves.
"This is why [Rep. Thomas Massie, R-Ky.] and I introduced amendments last month to, respectively, abolish the Department of Education and short of that, to block grant $ to the states," Roy added.
SHERIFFS RALLY AROUND GOP CRIME BILL ALLOWING EASIER FELONY CHARGES FOR RETAIL THEFT, DRUG POSSESSION
Biden's comments were reminiscent, not only of Clinton's "village" take, but also of a liberal former MSNBC host calling in a 2016 commercial for the collective care of a community's children instead of parents taking care of their kids themselves.
"We have never invested as much in public education as we should have because we've always had kind of a private notion of children. Your kid is yours and totally your responsibility. We haven't had a very collective notion of these are our children," Melissa Harris-Perry said in the commercial for the liberal network's then-"Lean Forward" campaign.
CLICK HERE TO GET THE FOX NEWS APP
"So part of it is we have to break through our kind of private idea that kids belong to their parents, or kids belong to their families, and recognize that kids belong to whole communities," she said.