A Just Stop Oil protester was assaulted by a driver after a pregnant woman was involved in a crash during the latest of the climate activist group's demonstrations.
The Daily Mail released exclusive footage of the organization blocking a road in South Kensington, London, Wednesday morning. In the video, a car can be seen having apparently crashed, allegedly caused by the protest. A woman then leaves the car shouting at the protesters, "Stop now. Stop now, I'm pregnant."
After that, a man exits the same vehicle and proceeds to yell at the protesters. In additional video, he is seen punching a protester in the face and stomping and kicking at the activist who fell to the ground.
While the driver was not identified, the activist was revealed by Just Stop Oil to be Daniel Knorr, who released a statement.
Knorr was also identified as the protester carried off by England wicketkeeper Jonny Bairstow during day one of the second Ashes Test cricket match at Lord's Cricket Ground, London last month.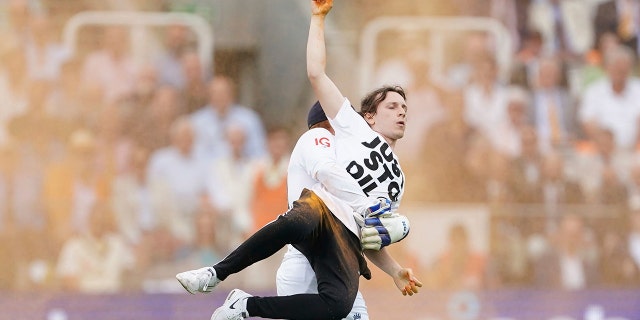 England's Johnny Bairstow carries a Just Stop Oil protester off the pitch during day one of the second Ashes Test cricket match at Lords Cricket Ground, London, England, Wednesday, June 28, 2023. (Mike Egerton/PA via AP)
In another statement from Just Stop Oil to the Daily Mail, the group remarked, "Daniel was assaulted while marching this morning, and remained nonviolent throughout. Disruption is difficult, but it's necessary."
WISCONSIN OFFICIAL FUMES AT NAKED CLIMATE CHANGE PROTEST FOR ALLOWING LITTLE GIRL TO JOIN: 'ENOUGH IS ENOUGH'
In May, a man was seen pushing a protester and snatching the group's banner. While police officers were on the scene, they appeared to only intervene after the man became physical with the demonstrators.