China's Vice Foreign Minister Sun Weidong reportedly summoned Hideo Tarumi, Japan's ambassador to China, on Sunday to relay "solemn" protest from Beijing in response to the "hype around China-related issues" that occurred at the G-7 summit of the leaders of the world's leading democracies in Hiroshima over the weekend.
In a statement, cited by Japan Times, the Chinese Foreign Ministry said Sun communicated Beijing's "strong dissatisfaction and resolute opposition" to remarks made during G-7.
The Japanese Embassy said in a statement of its own that Tarumi told Sun that it was "only natural" that such references were made and urged China to change course, according to Japan Times.
G7 SUMMIT PHOTO SHOWS ISOLATION RUSSIAN PRESIDENT VLADIMIR PUTIN IS FACING ON WORLD STAGE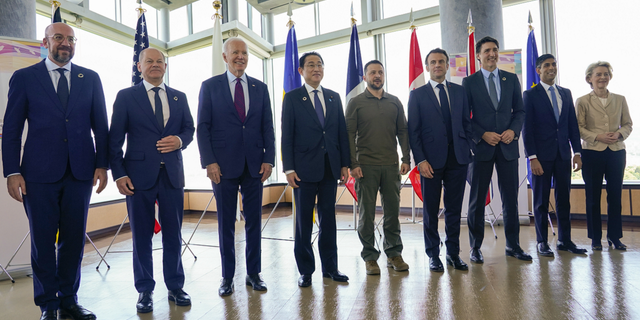 President Joe Biden, third from left, and Ukrainian President Volodymyr Zelenskyy, center, and other G7 leaders pose for a photo before a working session on Ukraine during the G7 Summit in Hiroshima, Japan, on May 21.  (AP/Kyodo News)
As for Taiwan, Sun said the island sits at "the core of China's core interests" and "a red line that must not be crossed."
According to the South China Morning Post, Sun also accused the U.S.-led bloc of "camp confrontation and Cold War mentality," demanding Japan "correct its understanding" of China.
The White House shared a join communiqué over the weekend in which the G-7 leaders provided a broad-ranging summary of their work during the summit in Hiroshima.
The G-7 leaders' statement warned that China's "accelerating build-up of its nuclear arsenal without transparency (or) meaningful dialogue poses a concern to global and regional stability."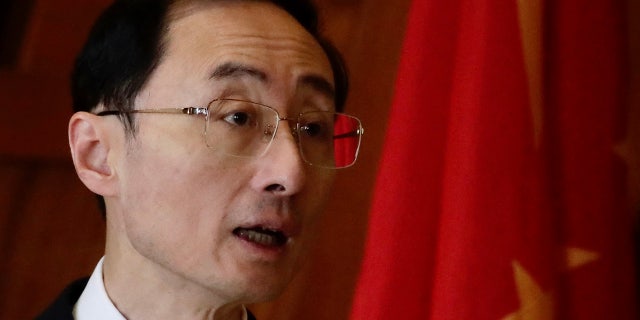 China's Vice Foreign Minister Sun Weidong reportedly issues rebuke of G-7 summit hosted in Japan.  (FRANCIS R. MALASIG/POOL/AFP via Getty Images)
North Korea, which has been testing missiles at a torrid pace in an attempt to perfect a nuclear program meant to target the mainland United States, must completely abandon its nuclear bomb ambitions, the leaders said, "including any further nuclear tests or launches that use ballistic missile technology. North Korea cannot and will never have the status of a nuclear-weapon State under [international nuclear treaties]," the statement said.
BIDEN TELLS REPORTER AT JAPAN G7 SUMMIT TO 'SHUSH UP'