Celine Dion's heart will go on, in the form of making music and movies, despite her Stiff Person Syndrome diagnosis.
The Grammy-Award winner is making her debut on the big screen in the film "Love Again," for which she also recorded a slew of new songs for the soundtrack. This will be Dion's first release of new music since announcing in December that she suffers from the incurable neurological disease.
Dion, who will star as herself in the film, says she "had a lot of fun doing this movie," which finished filming in early 2021.
"And to have the privilege of appearing with the beautiful and talented actors Priyanka Chopra Jonas and Sam Heughan in my very first feature film is a gift that I will cherish forever," she explained in a press release obtained by Fox News Digital.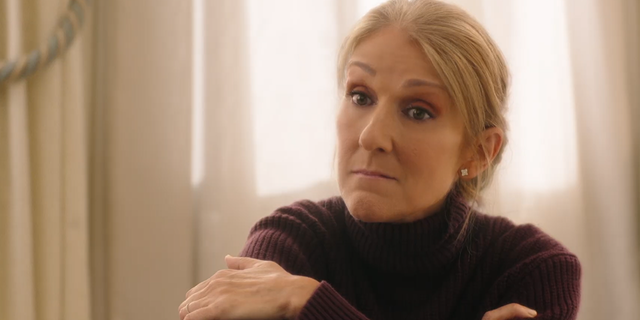 Celine Dion is making her acting debut in "Love Again," a film in which she recorded five new songs for the soundtrack. (Sony Pictures/Columbia Records/Celine Dion YouTube)
CELINE DION REVEALS INCURABLE NEUROLOGICAL DISORDER DIAGNOSIS IN EMOTIONAL VIDEO
"I think it's a wonderful feel-good story, and I hope that people will like it, and like the new songs too," she continued.
On Thursday, the studio released a lyric video for Dion's song that matches the movie title, "Love Again."
The film features 11 songs from the 55-year-old singer-songwriter, which are described as being "woven into the narrative of the film and its characters."
CLICK HERE TO SIGN UP FOR THE ENTERTAINMENT NEWSLETTER
The romantic comedy follows Mira Ray (Chopra Jonas) who has just lost her fiancé. She "sends a series of romantic texts to his old cell phone number…not realizing the number was reassigned to Rob Burns' new work phone," a synopsis details. Rob Burns' is played by Heughan.
"A journalist, Rob is captivated by the honesty in the beautifully confessional texts. When he's assigned to write a profile of megastar Celine Dion (playing herself in her first film role), he enlists her help in figuring out how to meet Mira in person … and win her heart."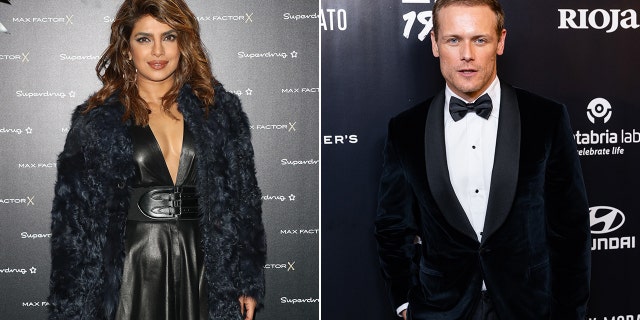 The film "Love Again" stars Priyanka Chopra Jonas and Sam Heughan as well as Celine Dion. (Neil Mockford/Aldara Zarraoa)
Chopra Jonas previously shared that the movie was "our ode to Celine," and that "having new music from her is such a blessing in this movie," according to People Magazine.
Heughan lauded Dion with compliments, saying she was "very good," while also acknowledging her humor.
"Her music, in a way, brings my character and Priyanka's character together. But who better to do that than Celine Dion?" he added.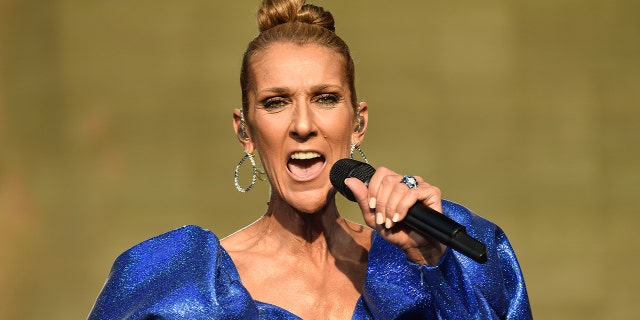 Celine Dion told her fans in December she would not be able to tour due to her condition. (Brian Rasic/WireImage)
CLICK HERE TO GET THE FOX NEWS APP
In December, the Canadian native shared that she would not be able to continue touring as planned, due to her diagnosis.
Stiff person syndrome (SPS) is defined by the Cleveland Clinic as "a rare autoimmune movement disorder that affects the central nervous system (the brain and spinal cord). People with this condition first experience a stiffening of the muscles of their trunk followed, over time, by the development of stiffness and rigidity in the legs and other muscles in the body."
 
 

 
 
View this post on Instagram
 

 
 
 

 
 

 
 
 

 
 

In a video shared to her Instagram, Dion explained, "While we're still learning about this rare condition, we now know this is what has been causing all of the spasms I've been having. Unfortunately, these spasms affect every aspect of my daily life, sometimes causing difficulties when I walk and not allowing me to use my vocal cords to sing the way I'm used to," she said.
"I'm working hard with my sports medicine therapist every day to build back my strength and my ability to perform again. But I have to admit it's been a struggle. All I know is singing. It's what I've done all my life. And it's what I love to do the most," she expressed.
"I miss you so much. I miss seeing all of you — being on the stage, performing for you. I always give 100 percent when I do my shows. But my condition is not allowing me to give you that right now. For me to reach you again, I have no choice but to concentrate on my health at this moment. And I have hope that I'm on the road to recovery. This is my focus. And I'm doing everything that I can to recuperate," said Dion.