CBS anchor John Dickerson claimed that Tennessee Republicans' move to expel Democrat state legislature members for joining a wild leftist protest at the state capitol was such an extreme move, that leftists may resort to violence over it.
Dickerson argued that the state GOP gave the expelled members and the Democrat Party in the state "no give" with this "maximalist" decision, and thus may receive political retribution in the form of violence.
The CBS anchor also remarked that more and more Americans on both the left and right are getting frustrated and turning to violence rather than appealing to traditional politics, but claimed that this violence is mostly coming from the "conservative side."
NASHVILLE POLICE FIND SUICIDE NOTE, YEARBOOKS, WEAPONS, AMMO AT SCHOOL SHOOTER AUDREY HALE'S HOME: REPORT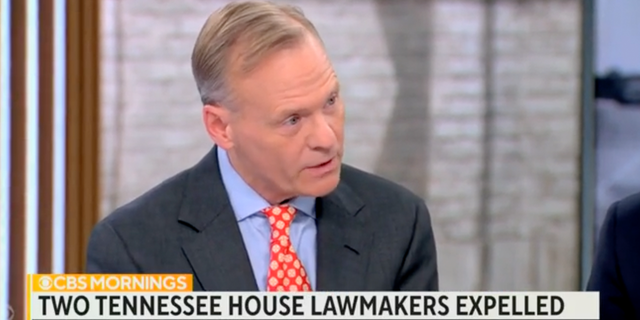 CBS anchor John Dickerson claimed that the Tennessee GOPs move to expel Democrats from state legislature may invite leftist violence. (Screenshot/CBS)
Dickerson made his remarks on Friday's episode of "CBS Mornings" during continued reporting on Thursday's event at the Tennessee capitol, where GOP members of the legislature voted to expel Democratic Reps. Justin Jones and Justin Pearson from the body for their role in a raucous protest calling for gun control.
Tennessee Republican Caucus Rep. Jeremy Faison justified the decision to CNN on Thursday, claiming the two ­– as well as Democrat state Rep. Gloria Johnson, who was saved from expulsion by one vote – got the intimidating crowd "worked up into a frenzy."
Dickerson insisted that the expulsion was a rash move that could prompt a dangerous reaction.
He told his CBS colleagues, "Well, politics needs some cartilage. It needs some give. It can't be totally brittle. So when you have a situation in here where, okay, Republican lawmakers thought these Democrats broke decorum and stepped out of line, there are a series of steps to punish. But when you go to the maximalist, when you kick them out, that's brittle. There's no give."
NASHVILLE KILLER AUDREY HALE SLEPT WITH JOURNALS ON SCHOOL SHOOTINGS UNDER BED, COURT DOCS REVEAL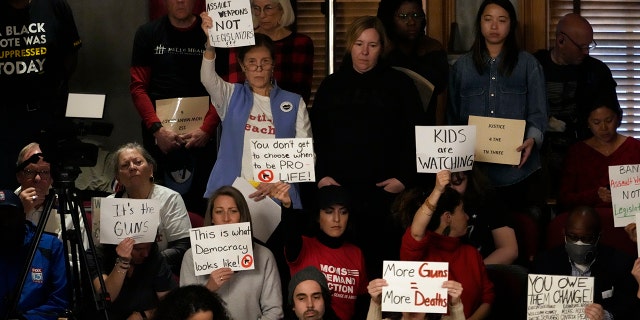 Gun reform and "Tennessee Three" supporters raise signs in the gallery of the House chamber Thursday, April 6, 2023, in Nashville, Tennessee. (AP Photo/George Walker IV)
The anchor continued, saying, "When there's no give, the only way the other side gets to respond is by punching back. And so when you lose those interim steps, all you get is response and response and response. And that is not only — you know where that leads. Right? That leads to violence."
Dickerson also made some observations about the tensions in the country, noting that both sides are more prone to political violence these days.
While doing so, he made sure to clarify that the propensity to violence is mostly on the conservative side.
CLICK HERE TO GET THE FOX NEWS APP
Dickerson stated, "And it takes us back to this previous conversation which is the reason this question of democracy is so important. And the reason faith in the judicial system is so important is we're at a moment where – more on the conservative side – but on both sides, you have people who think the system isn't working, we've got to effect change outside of the system through violence."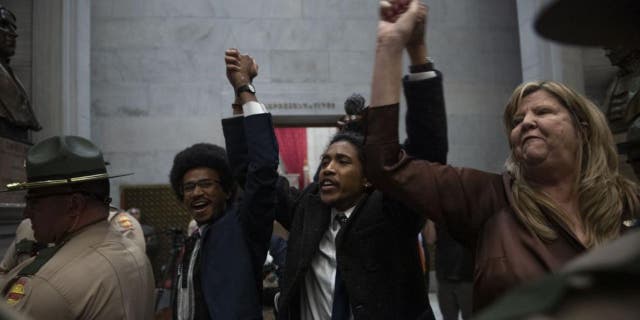 Rep. Justin Pearson, Rep. Justin Jones, Rep. Gloria Johnson People hold their hands up as they exit the House Chamber doors at Tennessee State Capitol Building in Nashville, Tenn., Monday, April 3, 2023. (Nicole Hester /The Tennessean via AP)