Nima Momeni, accused of fatally stabbing Cash App founder Bob Lee, allegedly knifed a pair of teenagers nearly two decades ago, police records reveal.
Momeni, then 20, allegedly attacked a 19-year-old man and a 16-year-old boy in a possible dispute over drugs, the San Francisco Chronicle reported.
The younger teen first attacked Momeni, sparking the 2005 altercation, according to witnesses who spoke to the Albany Police Department in the East Bay.
The police report says the teenagers suffered minor injuries and listed Momeni as both a suspect and victim, the local newspaper reported, citing newly obtained records.
CASH APP'S BOB LEE VISITED SUSPECT'S SISTER HOURS BEFORE MURDER, ARGUED WITH ALLEGED KILLER, COURT DOCS REVEAL
The tech consultant, 38, was charged with murder two months ago for the April 4 stabbing death of 43-year-old Lee.
Prosecutors say Momeni stabbed Lee three times with a kitchen knife and left him to bleed out on a San Francisco sidewalk in a dispute over Momeni's sister.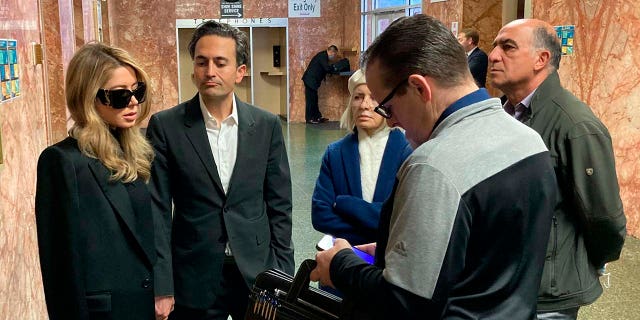 Khazar Elyassnia, left, stands in the Hall of Justice in San Francisco on Friday, April 14, 2023, ahead of an appearance by her brother, Nima Momeni, who has been charged with murder in the death of tech entrepreneur Bob Lee. Elyassnia's husband, Dino Elyssania, is next to her. (AP Photo/Olga Rodriguez)
Momeni and Lee were at a house party April 3 when Momeni asked Lee if he was doing anything inappropriate with his sister, according to prosecutors.
Early the next morning, the men were captured on surveillance video leaving the Millenium Towers, where Elyassnia and her husband live.
SAN FRANCISCO POLICE ARREST MAN IN CASH APP FOUNDER BOB LEE STABBING DEATH
Momeni recently replaced his original lawyer with Miami-based attorney Saam Zangeneh, who describes himself on Instagram as a legal "sicario," which is Spanish for hitman.