Two men have been charged with attacking a couple in their 60s after an Elton John concert in November in Los Angeles.
Reece Hopkin, 38, and Chad Reeves, 42, were each charged with one felony count of battery with serious bodily injury, the Los Angeles District Attorney's Office said Friday. Hopkin also faces one felony count of vandalism or destruction of property.
"What started out as a night of entertainment and revelry ended in violence. Verbal disagreements should never take such a dangerous turn," LA District Attorney George Gascón said in a statement announcing the charges from the Nov. 17, 2022, parking lot incident at Dodger Stadium.
ARNOLD SCHWARZENEGGER FILLS IN NEIGHBORHOOD POTHOLE HIMSELF AFTER 'WAITING' FOR THREE WEEKS: 'THIS IS CRAZY'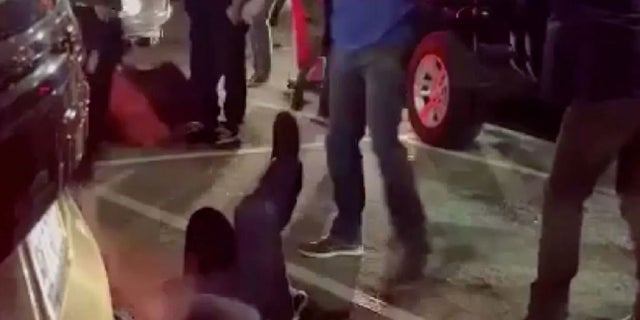 Jamie is seen on the floor as a man punched him in the stomach and another man stands over him.  (KTTV / Fox News)
The couple, Lillian and Jamie, both in their 60s, were reportedly in their car exiting the Dodger Stadium parking lot when they heard a loud thud, the couple's daughter Nicole Renteria told FOX 11.
"A group of people walked around their car and they both heard this loud bang and someone had hit my dad's mirror on his Tahoe," she told FOX 11.
Her father exited the car and asked the group about those who hit the mirror. One woman took responsibility and reportedly began swinging at Jamie. Lillian got out of the car to help.
"Her instinct was to get out and help him, and as my mom's trying to pull men off of him, she was grabbed by the back of the head by a female in that group," Nicole told FOX 11 just days after the attack. "Before she knew it, the gentleman in the black shirt, black backwards hat (as seen in the video), basically football tackles my mom and my mom just remembers flying and that's it."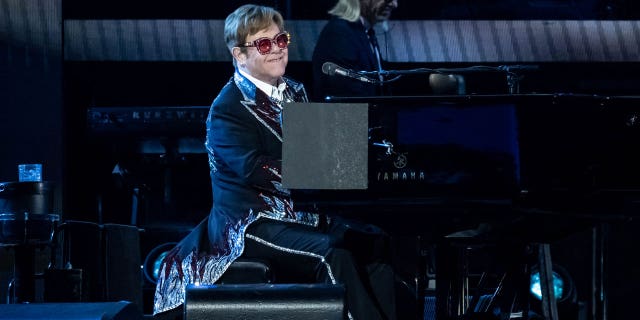 Elton John (Getty Images)
Hopkin is accused of grabbing a phone from a man recording the confrontation and throwing it on the ground. The couple sustained injuries and broken bones.
"I am proud of the vigilant work done by Northeast detectives to investigate this vicious attack and bring the attackers to justice with the support of the District Attorney's Office," Los Angeles Police Chief Michel Moore said. "Our commitment to reducing violent crime and holding those responsible accountable will continue to be unwavering."
CLICK HERE TO GET THE FOX NEWS APP
Both men are scheduled to be arraigned May 15.