A swarm of earthquakes in north-central California has rattled communities near Santa Rosa.
The U.S. Geological Survey reported a notable magnitude 4.4. earthquake in a Wednesday tweet, centered seven kilometers west-northwest of Cobb.
Cobb is a town located in Lake County.
The ShakeAlert system was activated.
SMALL EARTHQUAKES REPORTED NEAR CALIFORNIA'S OAKLAND ZOO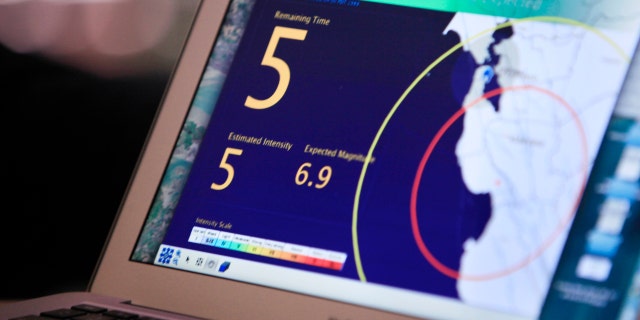 ShakeAlert early warning system simulation of a repeat of the Lomo Prieta earthquake is displayed on the computer of Richard Allen (not shown), UC Berkeley Seismological Laboratory director, after he spoke during a press conference on BART's earthquake preparedness at the Embarcadero BART station on Monday, Aug. 25, 2014, in San Francisco, California. (Lea Suzuki/The San Francisco Chronicle via Getty Images)
Later, the agency wrote in a follow-up tweet that magnitude 4.0 and larger tremors "occur commonly" in the Golden State, with recent calculations predicting more than one per week on average and a 100-kilometer buffer beyond California borders.
"Many such events go mostly unnoticed, if they are offshore or in remote regions," it said.
"That said, as a rule of thumb, any earthquake in California has about a 1-in-20 chance of being a foreshock to a larger earthquake within the next few days. Useful little reminders to stay prepared if you live in earthquake country," the U.S. Geological Survey said.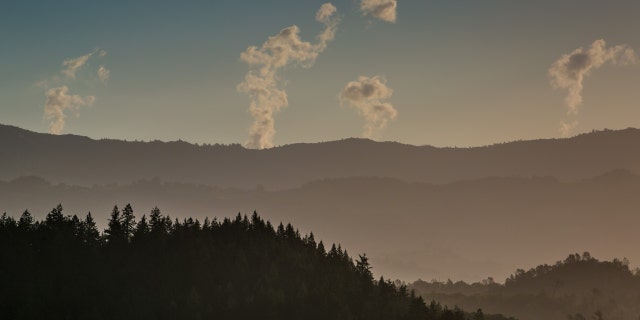 Steam rises from the Calpine steam power plants located on a ridge at The Geysers on April 28, 2014, near Healdsburg, California. (George Rose/Getty Images)
Geothermal activity on Cobb Mountain had recently generated earthquakes in the area, according to The Press Democrat.
However, the outlet, citing experts, said the area isn't close to any major faults and that the possibility of a major earthquake is remote.
4.0 MAGNITUDE EARTHQUAKE RATTLES CENTRAL OKLAHOMA
The seismic activity from the 4.4 shake late Tuesday evening reportedly woke sleeping residents and caused dogs to bark.
The Press Democrat said that earthquake was followed in the next 10 minutes by 24 additional quakes, which ranged in magnitude.
Larger magnitude earthquakes were reported in Sonoma County, including a magnitude 3.9 north-northwest of The Geysers early on Wednesday. The earthquake was too small to trigger the alert system.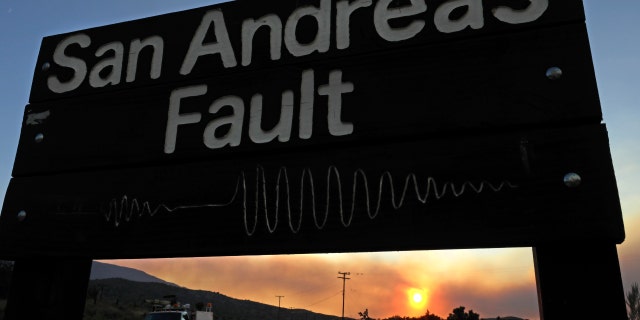 FILE – A smoky sunset from the Bobcat Fire as seen from the San Andreas Fault on Pallet Creek Road in Juniper Hills. Bobcat Fire on Sunday, Sept. 20, 2020, in Juniper Hills, California. (Myung J. Chun / Los Angeles Times via Getty Images)
There were no immediate reports of damage.
The area is miles from the San Andreas Fault, as well as the Rodgers Creek Fault.
There are hundreds of identified faults in the state, with about 200 considered potentially hazardous, according to the Department of Conservation.
CLICK HERE TO GET THE FOX NEWS APP
Each year, California generally gets two or three earthquakes large enough to cause moderate damage to structures that are magnitude 5.5 and higher.
Each year, the southern California area has about 10,000 earthquakes total, and the California Earthquake Authority says the state experiences more than 100 earthquakes each day.