A World War II veteran with no surviving relatives turned 105 years old on Friday, April 21, 2023 – and received more than 3,000 cards from well-wishers.
Ernest Horsfall, 105, of Preston, Lancashire, England, served as a staff sergeant with the Royal Electrical and Mechanical Engineers during the WWII, reported SWNS, the news agency.
As Horsfall's landmark birthday drew near, the Royal British Legion issued an appeal for birthday cards for the centenarian, the news service noted.
TIKTOK STAR AND WWII VETERAN 'PAPA JAKE' TURNS 100, WANTS FUTURE GENERATIONS TO KNOW HIS STORIES
Horsfall was shocked at the number of cards he received for his birthday, he said.
"I say thank you to you all," he told SWNS, adding, "I'm utterly surprised and amazed at the number of greeting cards that came my way."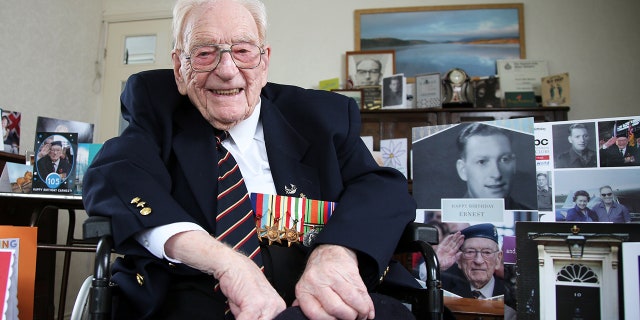 Ernest Horsfall, a WWII veteran, seen here with some of the thousands of birthday cards he received for his 105th birthday.  (SWNS)
Horsfall, who has lived through 27 different prime ministers, even received a birthday card from current PM Rishi Sunak.
Despite his advanced age, Horsfall has kept active physically and mentally.
At the age of 43, he took flying lessons and became a licensed private pilot, a position he held for 50 years, said SWNS.
GEORGIA MAN'S CHRISTMAS TREE DEDICATED TO AMERICAN VETERANS TOOK 20 YEARS TO COMPLETE
He was told he was uninsurable as a pilot at age 93 — but he maintained aircraft until he was 101, said the agency.
During World War II, Horsfall served both in London during the blitz and with the Allied forces in North Africa.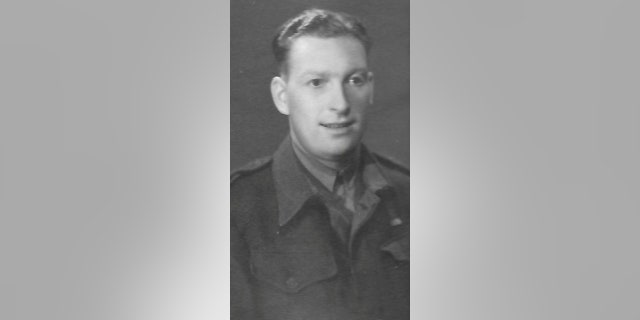 Staff Sgt. Ernest Horsfall, seen here as a young man, celebrated his 105th birthday on Friday, April 21, 2023. (SWNS)
Afterward, he served in Italy, working on tanks used by the Allied forces.
Horsfall said in 1940 he was nearly killed in a bombing raid in London, according to SWNS.
"There would be swarms of Nazi bombers flying overhead all night and I knew many people that were injured or worse," he said.
WWII VETERAN IS WISHING FOR 100 CARDS ON HIS 100TH BIRTHDAY
"On one occasion, our guard room was hit and six of my pals were killed. I was just lucky it wasn't my duty that night," he said.
Horsfall was married for 57 years. He outlived his wife, sister and son, said SWNS.
He now has a girlfriend, a 63-year-old named Margaret, who lives is Iceland.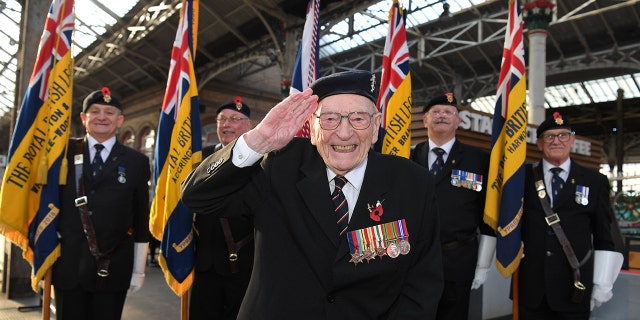 A 2019 picture of Ernie Horsfall, then just 101 years old. (SWNS)
He credits his longevity in part to his optimism.
"The secret to a long life is to keep living as happy as you can and keep a straight mind," he told SWNS.
CLICK HERE TO SIGN UP FOR OUR LIFESTYLE NEWSLETTER
Rachel Venables, the membership engagement manager for the Royal British Legion, noted that the number of WWII vets is "inevitably diminishing."
"Occasions like this are an opportunity for the (Royal British Legion) to remind everyone that their service and sacrifice means something and will never be forgotten," she said to SWNS.
CLICK HERE TO GET THE FOX NEWS APP
"Bringing the community together has always been a strength of the Royal British Legion and our branch network creates connections in local communities, playing a vital role in reaching those veterans who need us the most," she added.