NASHVILLE – People in Nashville weighed in on President Biden's growing rift with the White House press corps and his administration's transparency since taking office.
"He doesn't answer any questions," one man, David, told Fox News. "I honestly just don't think he's in charge of the country."
Kerry, however, said, "I think we still get all the information we need to. Maybe he just isn't looking for the spotlight as much as others may have."
AMERICANS SAY BIDEN 'AVOIDING QUESTIONS':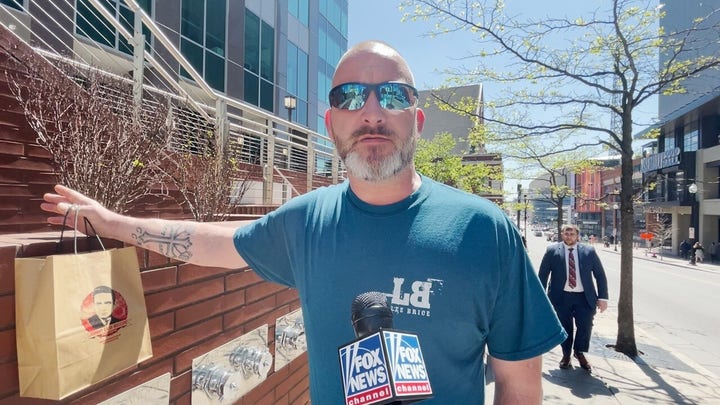 Video
WATCH MORE FOX NEWS DIGITAL ORIGINALS HERE
The White House press corps grew frustrated with the president after hearing he would forgo a formal news conference during his four-day trip to Ireland this week. Biden has done only 23 press conferences since taking office, compared to 41 by President Trump, 53 by President Obama and 45 by President Bush at this point in their administrations.
"I think he's avoiding a lot of open questions," Pete told Fox News.
Another man, Robert, said, "Nobody really knows what's going on anymore."
"The press corps travels with him, right?" David said. "I think all the media sources are getting frustrated, because they can't report on anything."
The reporters pushed back on Biden's lack of transparency in a Monday press conference, with one reporter asking whether the administration was "trying to protect the president" from their questions.
"Absolutely not. Absolutely not," press secretary Karine Jean-Pierre replied.
REPORTERS ERUPT ON JEAN-PIERRE OVER BIDEN NOT TAKING QUESTIONS FROM PRESS POOL: 'THAT'S NOT TRUE'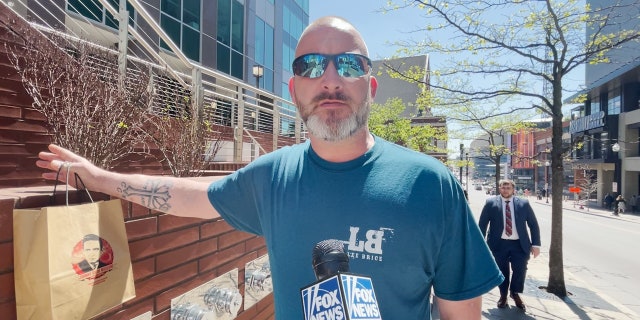 Robert criticized Biden's transparency as president and said "nobody really knows what is going on anymore." (Fox News)
"Certainly the president, many times, has stood in front of all of you, has taken questions on his own because he wanted to see what was on your minds. . . . That has happened multiple times, many times, during this administration. And that will certainly continue to be. When it comes to a formal press conference, I don't have anything to share with you at this time," she said.
Michael, visiting Nashville from Connecticut, said the press secretary's response was "laughable."
"They won't let him talk to anybody – do any interviews. Donald Trump answered so many questions. Biden won't answer anything," he said.
"I think we all know that he doesn't run the show," another man, Matt, said. "His handlers pretty much take care of everything that he does."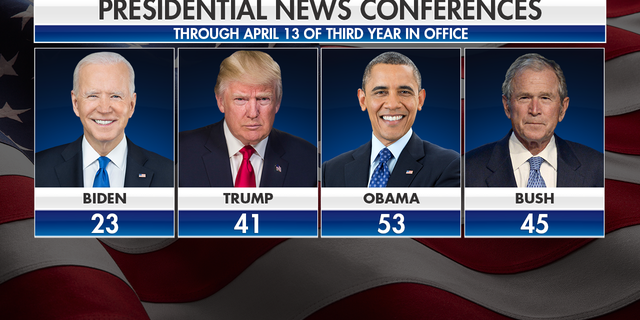 Biden has done fewer press conferences than his previous four predecessors at this point in his presidency. (American Presidency Project)
"Obviously, he seems compromised to some degree," Pete said. "So yeah, I think they would try to minimize that."
CLICK HERE TO GET THE FOX NEWS APP
Biden avoided press questions during his trip to Ukraine and Poland in February, though he held a joint press conference with Canadian Prime Minister Justin Trudeau during a trip to Ottawa in March.
Despite his cold shoulder to reporters, Biden did field questions from elementary school-age children of U.S. Embassy staffers after arriving in Dublin Wednesday.
"He doesn't want to talk about his son. He doesn't want to talk about Ukraine. He doesn't want to talk about inflation," Michael said. "He doesn't want to talk about what's really hurting America."
To watch the full video, click here.