Sen. Dan Sullivan on Tuesday tore into Navy Secretary Carlos Del Toro for putting forward a budget that calls for a reduction of amphibious ships below the level mandated by Congress last year, and demanded that Del Toro return to Congress soon with a plan that doesn't violate that law.
At a Senate Armed Services Committee hearing, Sullivan, R-Alaska, noted that the defense policy bill passed last year requires the Navy to maintain a minimum of 31 operational amphibious ships to transport Marines and equipment. The Marines have also said they see 31 amphibious ships is the bare minimum needed to carry out their mission.
But the Navy's budget plan released this year would see that number drop to as low as 24 amphibious ships over the coming years, and the Navy's latest shipbuilding plan makes no move to make up the difference. The Navy's decision to ignore the will of Congress infuriated Sullivan, who repeatedly asked why the Navy would purposefully ignore federal law.
"You are violating the law," Sullivan said after reading out the requirement for amphibious ships to Del Toro. "Would you come before this committee and say, 'Sorry, we're not going to do 11 carriers?' No way. You'd get your you-know-what handed to you."
GRAHAM GRILLS NAVY ON BUDGET THAT SHRINKS THE FLEET AS CHINA GROWS: 'DOESN'T MAKE SENSE'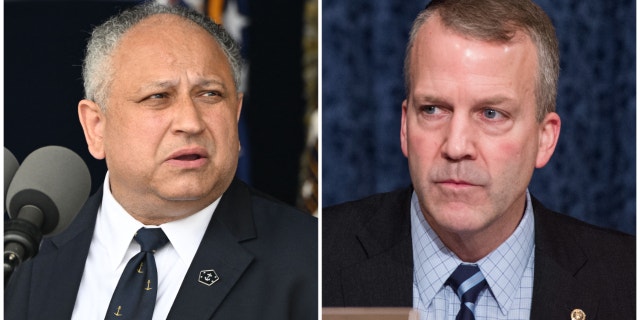 Secretary of the Navy Carlos Del Toro and Sen. Dan Sullivan, R-Alaska, battled in a Senate hearing over Navy fleet strength on April 18, 2023. (Fox News)
"You can't do it, sir," Sullivan said. "I find it simply unacceptable that we're all just letting you say, 'eh, maybe that was a suggestion by the Congress.' It wasn't a suggestion, it was a mandate."
"Why are you violating the law? And why does your shipbuilding plan have no remote interest for the next 30 years as far as I can tell, in hitting the statutory mandate that we told you to hit?"
Del Toro's reply indicated that he believes he has some authority to ignore the will of Congress.
"It is my responsibility to follow the law," Del Toro said. "It's also my responsibility to ensure that we just don't waste taxpayer money on vessels, for example, that will never see the light of day."
NAVY SECRETARY CITED CLIMATE CHANGE AS TOP PRIORITY AS BIDEN PROPOSES SHRINKING THE FLEET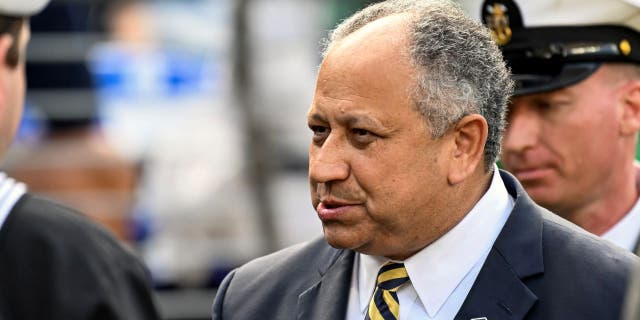 Secretary of The Navy Carlos Del Toro has been criticized by several senators for another Navy budget that would shrink the fleet. (Photo by Mark Goldman/Icon Sportswire via Getty Images)
Sullivan interrupted to say Congress gave the Navy the authority to enter into cost-saving multi-year procurement agreements, but that the Navy hasn't done that for amphibious ships yet.
"So it's a little rich when you tell me about taxpayer savings when you're not using the ability to save money that we gave you on amphibs," Sullivan said. "You use it for every other ship, but not amphips. So I'm not really buying the taxpayer argument."
Sullivan rejected the idea that the Navy might do more studies to get a better grip on the number of amphibious ships it needs.
"We did the study. We told you what to do and you need to do it," he said.
CHINA OUTPACING US IN WARSHIP PRODUCTION, NAVY SECRETARY WARNS
"That's totally unacceptable," Sullivan railed against the Navy's plan. "In my view you haven't been hit hard enough by members of this committee. You're ignoring us. Worse, you're ignoring the law."
Del Toro said that "hopefully" in Biden's next budget for fiscal year 2025, the Navy could consider a plan that "looks at" more amphibious ships, but Sullivan again said it's not up to him because Congress has spoken.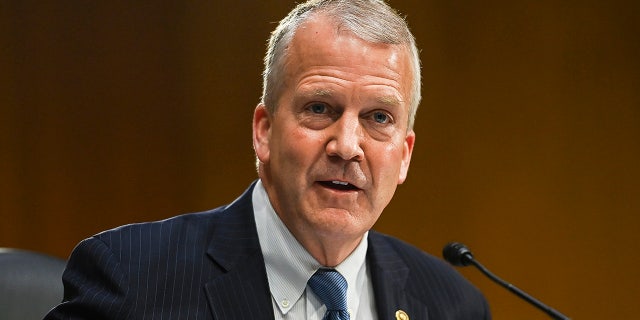 Sen.  Dan Sullivan, R-Alaska, blasted Navy Secretary Carlos Del Toro on Tuesday for ignoring federal law that prescribes how many operational amphibious ships the Navy maintains. (Photo by Brandon Bell-Pool/Getty Images) (Brandon Bell-Pool/Getty Images)
"That's not your option, we looked at it," Sullivan fumed. "This is a big issue, and right now the Secretary of the Navy is ignoring the Congress of the United States and it's unacceptable," he said.
The heated back and forth reflected growing frustration with the Navy from both Republicans and Democrats. Before Sullivan spoke, Sen. Tim Kaine, D-Va., summed up the situation by asking, "The nation needs 31 amphibs, the statutory requirement is 31 amphibs, the budget we have before us has no path to get to 31 amphibs, am I reading you right?"
CLICK HERE TO GET THE FOX NEWS APP
The complaint about amphibious ships comes as lawmakers are frustrated with the overall plan for the fleet put forward by the Navy. As China continues to expand its fleet, the U.S. Navy has proposed a smaller fleet under President Biden for the last three years, a move that has puzzled lawmakers in Congress.
Last month, Sen. Lindsey Graham, R-S.C., told Del Toro that the Navy's plan "doesn't make sense."