President Joe Biden declared Florida's Broward County a disaster area Friday, two weeks after record-breaking rain left parts of Fort Lauderdale and its suburbs flooded.
Gov. Ron DeSantis had requested the declaration earlier this week. The declaration makes Broward residents and business owners who incurred damage to their homes and other property eligible for a wide range of federal loans and other assistance. Local governments and nonprofit organizations are also eligible.
More than 2 feet of rain fell in some parts of the county on April 12. The 1-in-1,000-year deluge left some neighborhoods with up to 3 feet of water. About 1,000 homes were severely damaged, according to the state.
SEVERE WEATHER FORECAST IN SOUTH WILL SHIFT NORTHEASTWARD OVER THE WEEKEND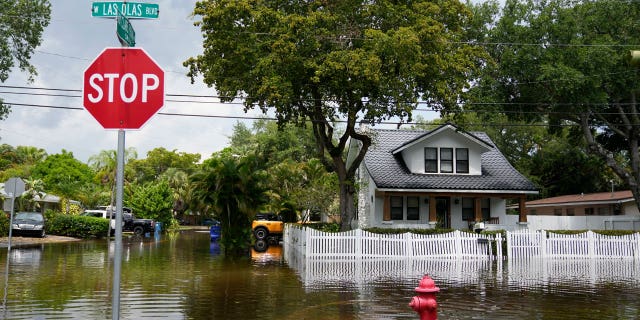 Receding floodwaters surround a home on Las Olas Boulevard in the Sailboat Bend neighborhood of in Fort Lauderdale, Florida, on April 13, 2023.  (AP Photo/Rebecca Blackwell, File)
CLICK HERE TO GET THE FOX NEWS APP
The flooding also closed the airport for almost two days. Gas deliveries to the port were also slowed, causing long lines at the pump.
The Republican governor is expected to soon announce that he will seek his party's nomination to challenge Biden in next year's election.
While frequently sniping at each other, the Democratic president and the governor have seen their administrations work together after disasters. That includes last year's Hurricane Ian, which killed more than 140 people and left thousands homeless, and the 2021 collapse of a condo tower in Surfside, which killed 98.