The Biden administration late Tuesday announced that it has secured a deal with Mexico to deport some non-Mexican migrants as part of a number of additional measures as officials prepare for what could be a historic migrant surge once Title 42 ends next week.
A joint U.S.-Mexico statement said that Mexico has agreed to continue to accept returns of Cubans, Haitians, Nicaraguans and Venezuelans on "humanitarian grounds." The Biden administration has launched a parole program to allow 30,000 nationals from those countries each month into the U.S. It has linked that program to a short-term decrease in illegal migration across the border in the first months of 2023.
Mexico had agreed to accept a similar number of Title 42 — the COVID-era public health order that allows for the rapid expulsion of migrants at the southern border — but with the order due to end on May 11 with the end of the COVID-19 national emergency, it was not clear if those returns would continue.
BIDEN ADMIN TO SET UP MIGRANT PROCESSING CENTERS IN LATIN AMERICA AS TITLE 42 SET TO EXPIRE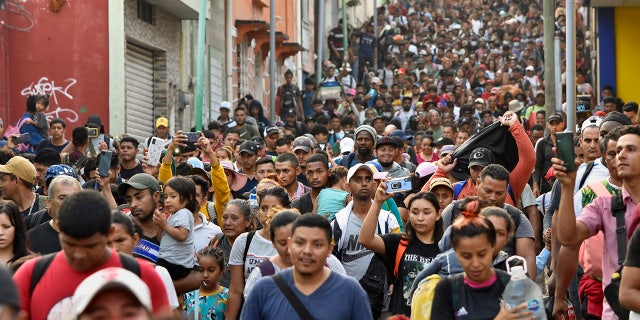 Migrants start walking north on their way to Mexico City from Tapachula, Chiapas state, Mexico, Sunday, April 23, 2023. ((AP Photo/Edgar Hernandez Clemente))
The order, although always temporary, quickly became a central part of border enforcement under the final days of the Trump administration and for the Biden administration so far, particularly as the Biden administration dealt with a dramatic and historic spike in migration under its watch. In March, just under 50% of migrant encounters ended with a Title 42 expulsion.
With that order set to end, officials have feared another spike in migration as migrants believe they have a better chance of being released into the U.S. In FY 2022, more than a million migrants were processed into the U.S., even as deportations plummeted.
Despite that, the administration has been warning migrants that they will be removed if they do not have a legal basis to remain in the U.S. once Title 42 ends. Last week the administration announced that it is stiffening penalties for illegal entry — including the use of tools like expedited removal, which can carry five-year re-entry bans and criminal prosecutions. It has also proposed a rule to bar migrants from claiming asylum if they cross illegally and have not claimed asylum in another country through which they have already passed.
At the same time, it is also broadening access to legal refugee, parole, and employment pathways. Last week officials announced the establishment of migrant processing centers across Latin America.
GOP SENATORS URGE BIDEN TO REVERSE TITLE 42 TERMINATION, CITING ESTIMATES OF MIGRANT DELUGE
"This is a hemispheric challenge that demands hemispheric solutions," DHS Secretary Alejandro Mayorkas said at a press conference. "Working with our neighbors in the region, we can and will reduce the number of migrants who reach our southern border."
On Tuesday, both the U.S. and Mexico announced joint anti-smuggling operations in addition to a 60-day surge campaign in the Darien Gap announced last week.
BIDEN ADMIN WARNS MIGRANTS THAT ENTERING ILLEGALLY 'WILL RESULT IN REMOVAL' AMID FEARS OF POST-TITLE 42 SURGE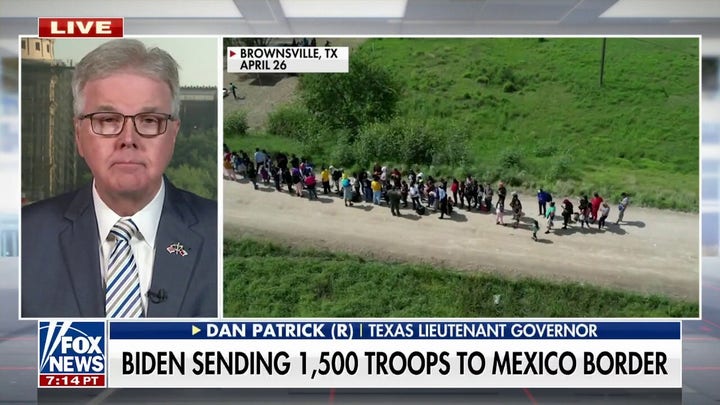 Video
The U.S. meanwhile, said it intends to welcome as many as 100,000 individuals from Honduras, Guatemala and El Salvador under an expanded family re-unificaton parole process announced last week.
The administration has been fending off intense criticism from Republicans, who have called for Title 42 to be extended, not terminated. Republicans have blamed the Biden-era surge in migration on relaxed enforcement policies — pointing to the ending of Trump-era policies like border wall construction and the Migrant Protection Protocols (MPP) as well as fewer ICE deportations under the administration.
CLICK HERE TO GET THE FOX NEWS APP
The Biden administration, meanwhile, has pushed back and has called for the passage of a sweeping immigration reform package to fix what it says is a "broken" immigration system. Republicans rejected that package due to the inclusion of a pathway to citizenship for millions of illegal immigrants already in the country.