Frequent capitalism critic Sen. Bernie Sanders, I-VT., attacked corporate media on MSNBC's "Inside With Jen Psaki." after complaining that issues with wealth inequality are not being addressed.
Sanders appeared on the Sunday show to discuss various topics including his recent book "It's OK to Be Angry About Capitalism" which was released in February. Psaki questioned Sanders' focus on capitalism and billionaires in the middle of various political issues such as abortion and gun reform.
"Why should capitalism be at the top of that list? Why was that important to be in the title of that book?" Psaki asked.
Sanders acknowledged that these issues are important, but, regarding capitalism, "sometimes the corporate media forgets about it and Congress forgets about it."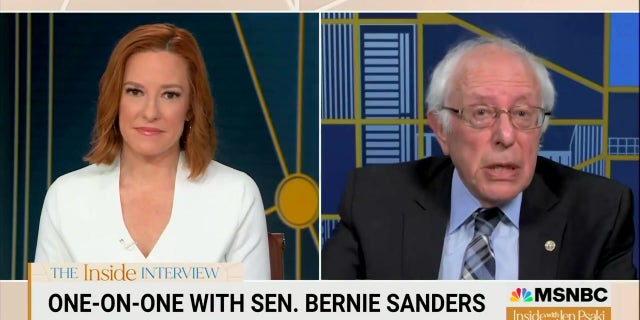 Sen. Bernie Sanders appeared on MSNBCs "Inside with Jen Psaki" on Sunday.  (MSNBC)
MSNBC'S JEN PSAKI CALLED OUT FOR NOT BOOKING REPUBLICAN GUESTS: 'WHAT'S THE PROBLEM?'
"There are people working for starvation wages. There are moms who can't afford to send their kids to decent childcare. Can't even find a slot. Those are issues of enormous consequence we don't talk about. You tell me. We've got three people on top today, who own more wealth than the bottom half of American society. Is that an issue we should be talking about? Does that sound like we have an economy that works for all of us? Or just the few? Is that an issue worth discussing?" Sanders said.
"We're talking about it now, Senator. So I'm happy to have you on," Psaki pushed back.
When Psaki attempted to question Sanders on President Biden's nomination of Julie Su for the Labor Department Secretary, Sanders continued to interrupt her and push his issues with capitalism.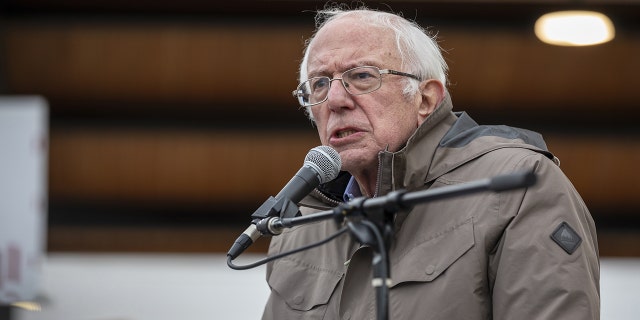 Senator Bernie Sanders has railed against capitalism despite earning millions from book deals and speaking events. (Elaine Cromie/Bloomberg via Getty Images)
"I love Julie. We are gonna do our best to get—but let us talk about income and wealth inequality. Let's talk about concentration of ownership– let's talk about corporate ownership of the media, do you think that those are issues worth discussing?" Sanders said.
"Well, Senator, I have you on today. We are having a conversation about all of these issues," Psaki said.
BERNIE SANDERS CONFRONTED ON WHETHER HE'S 'BENEFITING' FROM SYSTEM HE'S 'TRYING TO DISMANTLE' DURING BOOK TOUR
Though Sanders has frequently attacked capitalism and presented himself as a "democratic socialist," he has also embraced many capitalistic practices in the past such as the sale of his recent book. In March, he promoted a book tour to promote its release with tickets for the event costing up to $95.
In addition, tickets for Sanders' event were sold on Ticketmaster which was recently investigated by a Judiciary Subcommittee over potentially violating anti-trust laws and failing to promote competition in the ticket industry.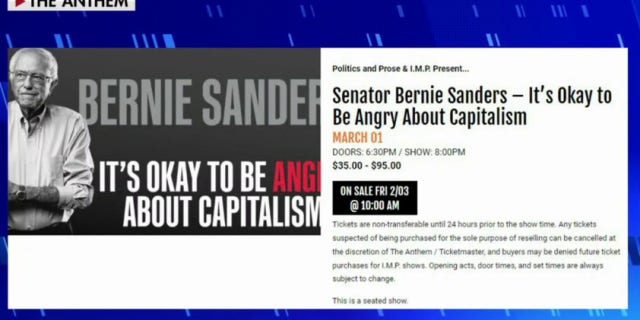 Independent Vermont Sen. Bernie Sanders charged up to $95 per ticket to attend his upcoming anti-capitalism event.  ((Screengrab/ The Five))
CLICK HERE TO GET THE FOX NEWS APP
"Sanders is the ultimate capitalist," Georgia Republican Rep. Austin Scott told Fox News Digital. "He's been selling the same trash over and over for years."
Sanders has since argued that he has nothing to do with ticket prices and that he is forced to "operate within the system" to write and publish a book.