EXCLUSIVE: Pennsylvania police are on the hunt for Bam Margera, the former MTV reality star and pro skater who authorities say punched his brother in the face Sunday morning – but the situation is more than just a search for a suspect.
His family is not mad, his mom tells Fox News Digital, and just wants him to come home safe and get treatment.
"We all love him so much, and we just want to help him, and we are not against him," the reality star's mother, April Margera, told Fox News Digital Tuesday. "We just want to try to get him help."
According to Pennsylvania State Police, Margera, whose real first name is Brandon, is wanted on charges of simple assault, harassment and making terroristic threats after the Sunday incident.
PENNSYLVANIA POLICE SEARCHING FOR BAM MARGERA AFTER 'JACKASS' STAR PUNCHES BROTHER IN FACE, FLEES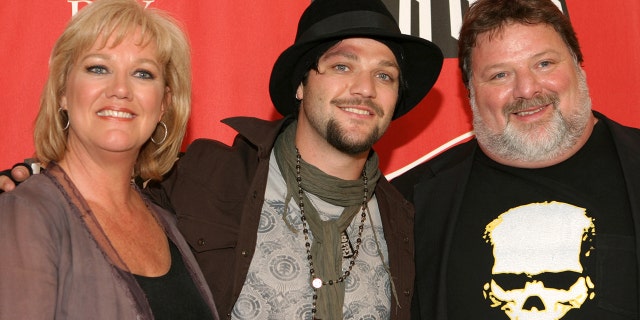 Bam Margera's parents, April and Phil, starred on his reality show, "Viva La Bam." (Christina Elliott)
However, he has also been diagnosed with bipolar disorder and is off his medication, his mom said. He is a person in crisis, and his whereabouts are unknown.
Your family loves you, and we just want you to get the help that you need. And we're not ever going to give up.

— April Margera
"He just needs to settle down and get it straight, and I think it's just hard for him to do without being on his medication and trying to wrangle him," she said. "We just want him to get better. I mean, the things that he's doing are not criminal in his mind. He just thinks he's running away from his troubles."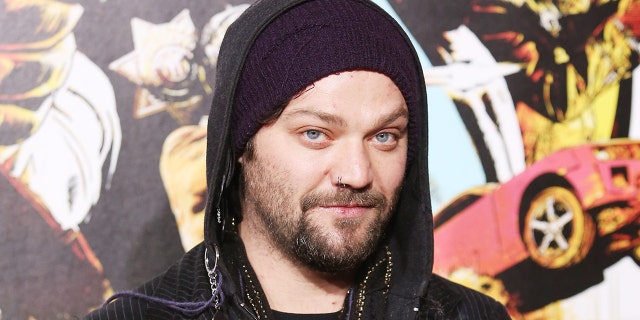 Bam Margera is wanted after domestic altercation at home in Pennsylvania. (Michael Tran)
As police continue to search for him, his mother said she has no idea where he may have gone and that he had not taken any of the family's cars.
"I truly, truly don't know where he would go at this point," she said. "We don't have any idea where he is. I don't believe that he's in the West Chester area. I mean, I don't see him hanging around."
BAM MARGERA SAYS HE WAS PRONOUNCED DEAD, SUFFERED FIVE SEIZURES WHILE HOSPITALIZED FOR COVID-19
She said the family is hoping that he will call or someone will spot him somewhere, but they have not heard anything yet.
"Bam is like the nicest guy you would ever want to know," his mother said. "He's generous to a fault. He's sweet. And that's the person that we're all fighting for. And while he was in rehab in Florida, we saw that person."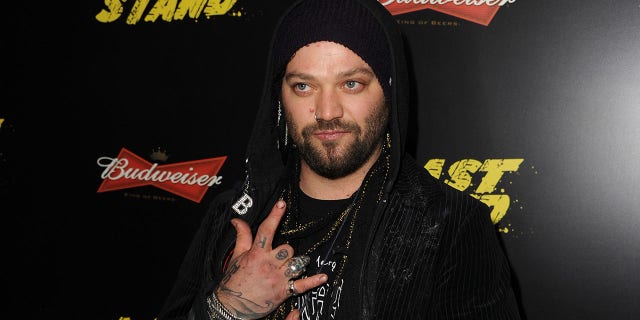 Actor Bam Margera arrives at the premiere of Lionsgate Films' "The Last Stand" at Grauman's Chinese Theatre on Jan. 14, 2013 in Hollywood, California. (Kevin Winter/Getty Images)
However, she said the system as a whole may not be best equipped to handle celebrities, who have fans who can influence their behavior and who may get away with more than the average person while in recovery.
"It's really just a breakdown of the system," April Margera said Tuesday. "Sometimes when you're a celebrity, it's like you get special treatment in rehabs, and it doesn't help."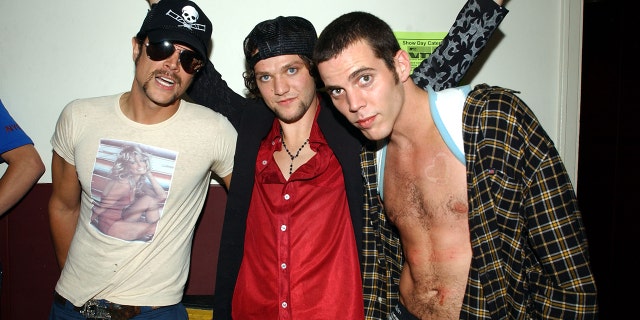 Bam Margera found fame with the "Jackass" crew, a group of amateur stuntmen who were known for filming their wild antics. (Frank Micelotta Archive)
"It's just he needs to just grab hold of sobriety and get back to himself and not this hurt and pain that he feels he can't seem to mask other than to drink it away," she said.
When police arrived at Margera's home Sunday, he allegedly "fled the residence on foot to the rear of the property through a dense wooded area," according to court documents.
In the complaint, his brother Jesse claimed he was awoken by Bam allegedly "banging and kicking his locked bedroom door."
'JACKASS' STAR STEVE-O: WHY HE'S JUST AS SHOCKED AS YOU ARE THAT HE MADE IT TO HIS 40S
Upon leaving his room, Jesse said he found a handwritten note from Bam that allegedly read, "If you even f—ing think of calling the police on me I will officially f— you up," the documents allege.
Jesse went to the kitchen and saw his brother "urinating in the sink," according to the complaint. His brother then allegedly punched him in the face and head.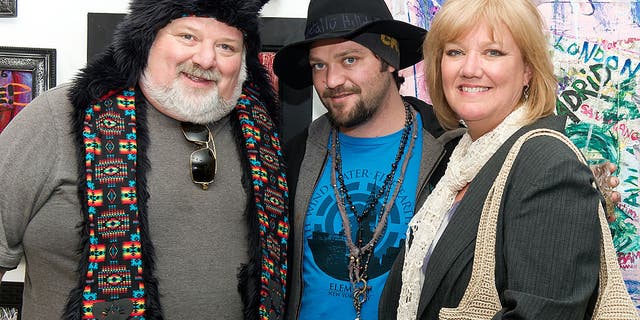 From left to right, Phil Margera, artist Bam Margera and April Margera attend the Bam Margera & Friends art exhibit opening at The James Oliver Gallery on April 7, 2012 in Philadelphia. (Gilbert Carrasquillo/Getty Images)
Margera has a long history with legal problems and substance abuse issues. He was most recently arrested on March 29 in California by Burbank police for being "drunk in public." Police records indicate Bam was meeting his ex-wife at a restaurant to see his son and allegedly arrived "intoxicated."
"I think he's just been painted as a monster, and anybody on drugs turns into a monster, daughters, children, parents," April Margera said Tuesday. "I've seen it tear a million people apart, and the fact that I have tons of people come up to me every day and say, 'I'm in the same shoes as yours – mine's just not on television.'"
CLICK HERE TO GET THE FOX NEWS APP
Struggles with substance abuse and mental health have rocked families across the country, she noted.
"Like, 'My son died, or my daughter died, or we're struggling, or I had to tackle my kid to the ground and drag him to rehab,'" she said. "There's so many of us just dealing with it, and I just I'm just sad for Bam because we all know who he is. He's a really great guy…Right now he just needs some help."
Anyone with information on Margera's whereabouts is asked to contact state police at 610-268-2022.
Fox News' Tracy Wright contributed to this report.