Religious nonprofits who spoke to Fox News Digital warned of increasing cultural and government hostility toward Catholics and other Christians under the Biden administration.
Their warnings come amid skyrocketing rates of church vandalism, legislation targeting church sacraments and the alleged weaponization of federal law enforcement against people of faith.
'Secular dogmas'
"I think it's just a rise in secularism in the United States," Arielle Del Turco, assistant director of the Center for Religious Liberty at the Family Research Council (FRC), told Fox News Digital.
Del Turco is the primary author of "Hostility Against Churches Is on the Rise in the United States," the FRC's report documenting the increasing rate of church vandalism in the U.S. during recent years. In an update published this month, the report noted that 2023 is already on track to log the highest number of church vandalism incidents within the six years FRC has been tracking them.
According to the report, 69 acts of hostility against churches in 29 states have already occurred during the first quarter of the year, including 53 acts of vandalism, 10 arson attacks or attempts, three gun-related incidents, three bomb threats and two other incidents such as assault. The statistics represent approximately three times the number of hostile acts that FRC recorded in the same time frame last year.
BIDEN DOJ RECOMMENDS NO JAIL TIME FOR TRANS VANDAL OF CATHOLIC CHURCH: 'F— CATHOLICS'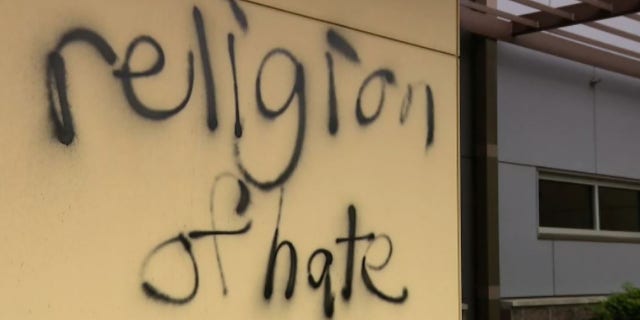 A message spray-painted last June on the wall of St. Louise Catholic Church in Bellevue, Washington, read: "religion of hate." (FOX13 Seattle)
"As secularism increases, people just understand religion less [and] less, they have less of the respect for religion that they might have had decades ago," said Del Turco of what might drive someone to vandalize a church. She also pinpointed a conflict between Christianity and "secular dogmas" rooted in the Sexual Revolution, such as abortion, same-sex marriage and other LGBT issues.
"All of these are increasingly in conflict with core Christian teachings and core Christian beliefs. So, the left is getting increasingly intolerant of Christianity for this reason, and I think we're seeing that even being represented physically with these physical attacks on churches."
Noting that while churches across multiple denominations of Christianity have been attacked, Del Turco said Roman Catholic churches especially tend to be the primary targets.
ATTACKS AGAINST US CHURCHES SPIKED FOLLOWING ROE V WADE REVERSAL: REPORT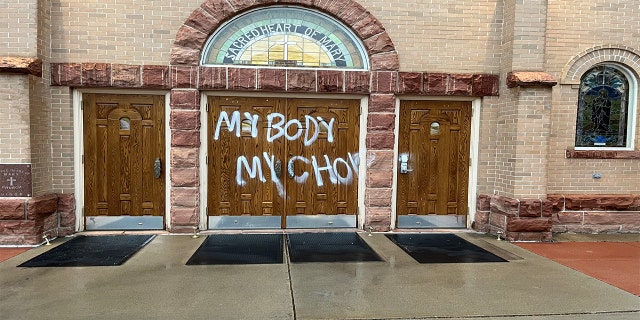 Vandalism on the Sacred Heart of Mary Church in Boulder, Colorado, last May. (Mark Haas)
"I think that's because they are just a beautiful outward representation of Christianity," she said of Catholic churches. "They have these beautiful buildings, they have statues outside, but also they are expressly pro-life. So, they do bear the brunt of most of these attacks."
Del Turco also said she believes the Biden administration has made evident by its actions that religious freedom and pursuing the violent offenders against it are "not a priority."
"I think even the public discourse — the way that President Biden talks about Christians or people who might oppose some of these secular dogmas — creates a really dangerous environment where people feel increasingly comfortable lashing out against churches," she said.
'New and dangerous territory'
Bill Donohue, president of the Catholic League, told Fox News Digital that activist secularists have grown militant and have seized the reins of power in recent decades. He said the source of hostility has shifted in the 30 years since he has headed up the nation's largest Catholic civil rights organization.
DIOCESE CONDEMNS DELAWARE BILL REQUIRING PRIESTS TO BREAK SEAL OF CONFESSION: 'A CLEAR VIOLATION'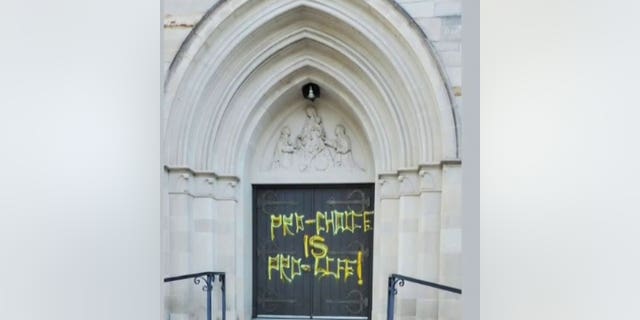 Holy Rosary Catholic Church in Houston was vandalized with a pro-choice message last summer. (Fox 26 Houston)
"When I first started out, most of the anti-Catholicism was coming from the media, the entertainment industry, the arts, education, primarily there," he said. "It's changed. It's coming now more from the Corporate 500, from the United States government, as well as from some state and local governments."
Donohue mentioned bills proposed in multiple states that would require priests to break the seal of confession and the proposed Equality Act, which he said would pull public funding from Catholic hospitals that refuse to perform abortions or sex reassignment surgeries.
"When the government comes after you with their powers, it's serious," he said, noting how the FBI sent a SWAT team to the home pro-life father Mark Houck and has reportedly targeted "Radical-Traditionalist Catholics."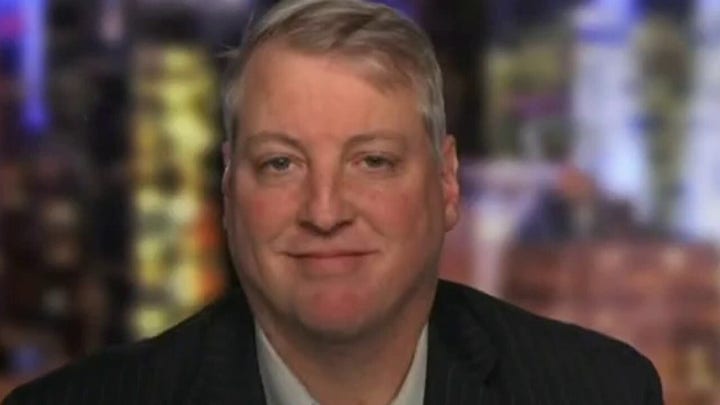 Video
Donohue fired off a letter Tuesday to Rep. Jim Jordan, R-Ohio, demanding answers amid internal documents that showed an attempt by the FBI to develop sources in Catholic churches to combat domestic terrorism, which he wrote "is taking the FBI into new and dangerous territory."
FBI Director Christopher Wray said during a recent congressional hearing that he was "aghast" when he saw reports about the FBI targeting Catholics, and assured that such "does not reflect FBI standards."
FBI SOUGHT TO DEVELOP SOURCES IN CATHOLIC CHURCHES TO COMBAT DOMESTIC TERRORISM
"The church is not encroaching on the government, it's the government encroaching on the churches, and it's coming most viciously from the Biden administration," Donohue told Fox News Digital. "I've never seen a more anti-Catholic administration in my life."
'Woke idol'
Brian Burch, president of CatholicVote.org, told Fox News Digital that the rise of anti-Catholic sentiment across the country, particularly from federal and state governments, is "exceptionally worrisome."
"In many ways, what we're seeing is unprecedented and poses serious threats to the ability of Catholics to freely practice their faith — free from threats of vandalism, violence or even coercion from governmental actors," he said.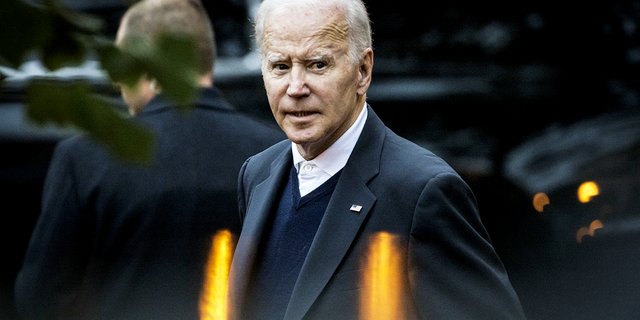 Catholic League President Bill Donohue claimed government encroachment on churches is "coming most viciously from the Biden administration." (Samuel Corum/Bloomberg via Getty Images)
Burch said his organization endeavors to "awaken Catholics to the threats that are now real and present," but he noted that many Catholics — including many in positions of leadership in the Church — remain unaware of the gravity of the growing cultural hostility they face.
WALTER REED 'CEASE AND DESIST' ORDER FOR CATHOLIC PRIESTS VIOLATES FIRST AMENDMENT, GOP LAWMAKERS SAY
Burch attributed the escalation to those who fundamentally misunderstand what religion represents and instead adhere to "a radical left-wing ideology that believes organized religion poses a threat to their vision of what America ought to be and should become."
He said that ideology maintains that religion is oppressive amid mankind's technological and scientific progress and has managed to seep into the highest levels of government and corporate America.
The cultural battle has been simmering for decades, Burch said, but has intensified under the Biden administration, which he said "has staffed itself up and down the executive branch — and now increasingly inside the judicial branch — with people who share this ideology."
CatholicVote.org President Brian Burch pinpointed rising anti-Christian hostility to a "a radical left-wing ideology that believes organized religion poses a threat to their vision of what America ought to be and should become." (AP Photo/Gerald Herbert, File)
Burch said the anti-Catholic hostility fanning out across the country poses a threat not just to Catholics but to "all people of good will who still believe in and hold traditional moral beliefs about human sexuality, biological science on gender, the institution of marriage, the foundational unit of the family, the critical role of religion in society."
CLICK HERE TO GET THE FOX NEWS APP
Such beliefs "are deemed out of bounds and antithetical to the kind of 'woke idol' that they all now worship," he added.