"Police Woman" actress Angie Dickinson helped pave the way for generations of women with her starring role as undercover cop Sgt. Pepper Anderson in the '70s drama.
Not only was Dickinson the first female to lead a successful, hour-long television drama, she also helped promote the message that women could have rewarding careers in the law enforcement field.
Dickinson was reportedly responsible for a surge in applications from women across the country wanting to join the force after seeing the actress playing a police officer on the small screen.
Here's a look at a few of the women who have played pivotal roles on female-fronted police procedural shows through the years.
'50S STAR ANGIE DICKINSON ON FRANK SINATRA AND WHY SHE NEVER MARRIED 'LOVE OF MY LIFE'
Angie Dickinson starred in "Police Woman," while Mariska Hargitay leads "Law & Order: SVU" and Angie Harmon worked on "Rizzoli and Isles." (Getty Images)
Dickinson, who starred on the series for 91 episodes from 1974-78, told Fox News Digital, "I like the idea that I might have been an influence."
She added, "But the truth is, I was not eager to sign on to a series. … Your life changes when you're the star of a series. It's constant. It's really hard. But I signed the contract, so it didn't matter if I found it inspiring or not. I just had to do it. But the way it was presented to me was, 'Don't you want to be a role model?' So, I'm glad that it may have affected the country."
Dickinson, who married songwriter and composer Burt Bacharach in 1965 before they officially called it quits in 1981, earned three Emmy nominations and a Golden Globe for "Police Woman."
WHAT RICHARD BELZER 'TAUGHT' MARISKA HARGITAY: 'IT WAS SUCH A PRIVILEGE TO KNOW HIM'
She remembered how "in '74, it was still unique to see a woman in uniform." The show also opened the door for more female-fronted crime dramas, including "Cagney and Lacey."
While she broke ground on TV, Dickinson "never felt the need for feminism," she told AARP. "I never felt competition with men, which I really believed started the movement."
She added, "When I was up for a role, I didn't compete with men; it was a role for a woman."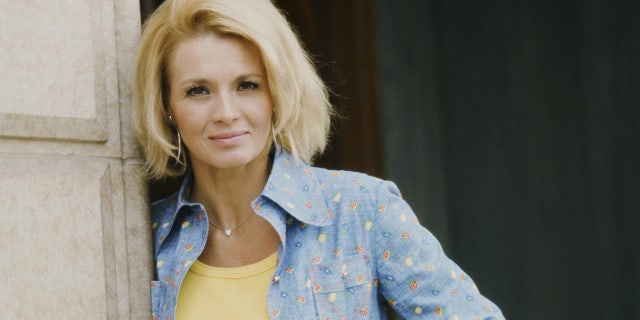 Angie Dickinson starred as Sgt. Suzanne "Pepper" Anderson on "Police Woman." (NBCU Photo Bank)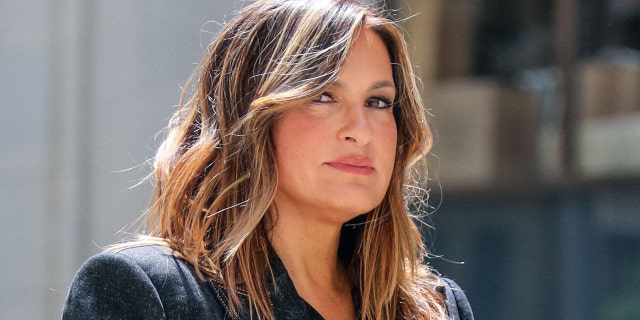 Mariska Hargitay stars as Captain Olivia Benson on "Law & Order: Special Victims Unit." (Photo by Jose Perez/Bauer-Griffin/GC Images)
Mariska Hargitay, the daughter of sex symbol Jayne Mansfield and Mr. Universe bodybuilder Mickey Hargitay, had television and silver-screen gigs before landing the leading role as Detective Olivia Benson on "Law & Order: Special Victims Unit" (SVU) in 1999. On the show, Benson has since become captain of the unit within the New York Police Department that focuses on sex crimes, domestic violence and child abuse.
ANGIE HARMON DISHES ON 'LEARNING PROCESS' OF DEALING WITH REJECTION IN HOLLYWOOD: 'IT IS HUMBLING'
Hargitay has played the character in more than 550 "Law & Order" episodes, a role which has earned her multiple Emmy awards and a Golden Globe, in addition to dozens of nominations.
Working with difficult subject matter on the series and receiving equally challenging fan mail about shared stories of abuse inspired Hargitay to launch the Joyful Heart Foundation in 2004, a nonprofit geared toward supporting and empowering survivors of sexual abuse and domestic violence. The foundation is also leading efforts to update the backlog of untested rape kits in police departments by providing more funding to law enforcement officials.
"I became a rape crisis counselor," she told Bust Magazine. "I joined all these organizations that were already doing the work and asked, 'Can you help me? How do I respond?' That's how I started the Joyful Heart Foundation. I felt like I needed to build out a response with some structure where I could actually do something. Because [acting on] the show is one thing, but how do we change all of this? My idea was to put the smartest people together and start a think tank."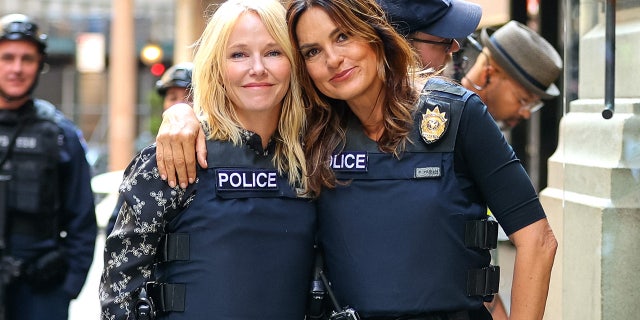 Kellie Giddish and Mariska Hargitay will soon reunite on season 24 of "Law & Order: SVU." (Jose Perez/Bauer-Griffin)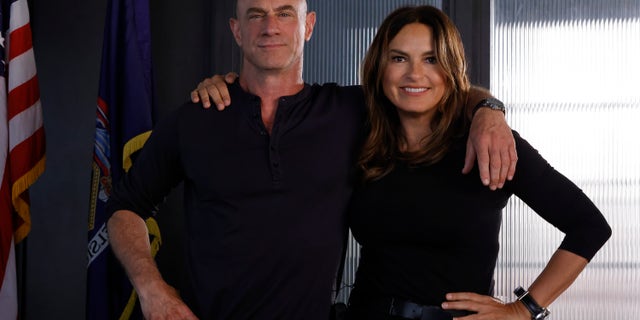 Christopher Meloni and Mariska Hargitay have worked together for decades on "Law & Order." (Will Hart/NBC)
In March 2019, upon the announcement of season 21, "SVU" became the longest-running primetime U.S. live-action series in the history of television. She wasn't alone on the force, though, and had a strong backing of female cops.
Kellie Giddish played detective Amanda Rollins for 10 years and recently announced she was returning to the show for season 24. Tamara Tunie starred as medical examiner Melinda Warner while Stephanie March and Diane Neal both played district attorneys.
Hargitay has worked with the Department of Justice on initiatives focused on strengthening the community, including Start Strong, a program geared toward promoting "healthy relationships as the way to prevent teen dating violence and abuse."
BEST HOLLYWOOD POLICE PARTNERS
She's campaigned with the department to end violence against women through advocacy, awareness and by developing and improving effective law enforcement and prosecution strategies. Hargitay spoke at the Services-Training-Officers-Prosecutors (STOP) conference in 2010, where she praised "the power to heal" through "collective commitment."
"I have seen survivors find their way back to lives of possibility, hope and joy, and I am so proud to be part of a movement that will change the way we talk about and behave around these epidemics," Hargitay said.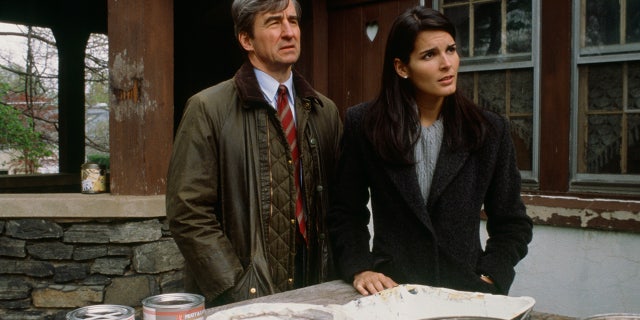 Angie Harmon worked with Sam Waterson on "Law & Order." (Jessica Burstein/NBCU)
Angie Harmon earned praise for playing assistant district attorney, Abbie Carmichael, on "Law & Order," but she took the reins as a true crime-fighter in the 2010-2016 television series "Rizzoli & Isles."
Harmon portrayed Boston detective Jane Rizzoli for seven seasons alongside Sasha Alexander who played Dr. Maura Isles, the state of Massachusetts' chief medical examiner.
The duo only hoped they could replicate the same energy and notoriety as "Cagney & Lacey."
When asked if they were the modern version of the female cop team, Harmon told MovieWeb, "Yes! Yes we are! Yes! We are the new Cagney & Lacey!"
THE 25 MOST UNFORGETTABLE COPS IN TELEVISION HISTORY
She added, "I remember one scene from that show, I was little, and I remember looking at them while they were in a car, and they were talking. Their body language, their gestures and everything, and I remember thinking, 'I want to be like those women. They are strong. They are tough.' To have it ironically come full circle like this and now be on a show that people are comparing to 'Cagney & Lacey' is very flattering. It's pretty neat."
While the show ended years ago, Harmon still has a little fun with the beloved character. Angie recently tweeted a conversation with a Starbucks barista who noted she looked "very much like the woman that plays (Rizzoli.)"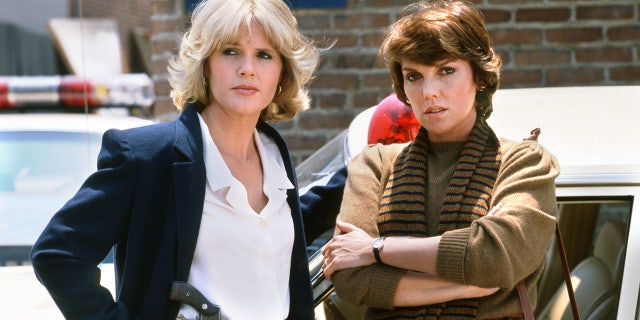 Sharon Gless and Tyne Daly starred in the buddy cop series, "Cagney & Lacey." (CBS Photo Archive)
"When she asked for my name, I said one word: Jane. Zero reaction. Am I a bad person?" Harmon wrote.
The hit '80s TV series "Cagney and Lacey" showed a completely different side to the buddy cop genre. Sharon Gless played a career-focused police detective, Christine Cagney, working with Mary Beth Lacey (Tyne Daly), a married working mother.
"They say the show changed the history of television for women," Gless told Closer Weekly. "There had never been a show starring two women in a dramatic format. We had Lucy and Ethel, and we had Laverne and Shirley, who were fantastic. But no one had ever really taken women seriously on television as a partner team. And it doesn't get much darker than the police force."
She added, "Just judging from the mail that we got, women had been waiting for something like that to let people know that, yes, we have a choice. Yes, we are strong. Yes, we can do this. It was quite sensational in its day."
For their roles as female New York Police detectives, either Gless or Daly won an Emmy for best lead actress in a drama every year for six consecutive years while "Cagney & Lacey" was on air.
"Before 'Cagney & Lacey,' we didn't follow officers home to find out what they did when they took their badges off and emptied their guns," Daly said in an interview with RadioTimes.com. "So, the idea that these women also had lives outside of work was really interesting to play."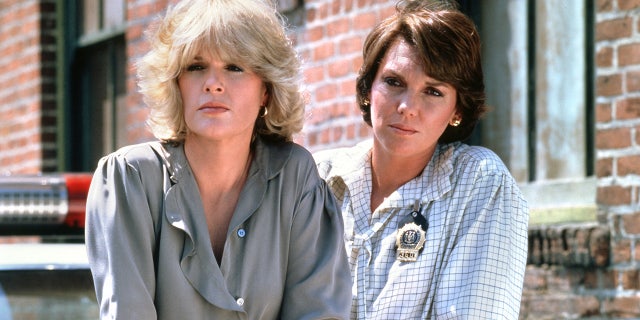 Sharon Gless played a career-focused police detective, Christine Cagney, working with Mary Beth Lacey (Tyne Daly), a married working mother. (CBS Photo Archive)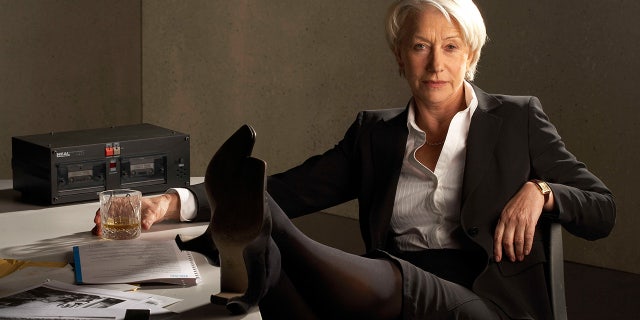 Mirren's role in "Prime Suspect" inspired other actors to portray cops on screen. (Nicky Johnston)
Gless added, "It was because of us that subsequent shows like 'NYPD Blue' were allowed to exist. That was basically 'Cagney & Lacey' with two men in that it featured male leads who talked about their feelings. 'NYPD Blue' was a great show, but I always thought we did it better. We were the first cop drama to have principal characters who were allowed to be vulnerable."
Dame Helen Mirren may now be known for her Oscar-winning portrayal of Queen Elizabeth II, but she won one of her first Emmy awards for portraying detective Jane Tennison in the 1996 television series "Prime Suspect."
HELEN MIRREN SHARES RACY, STRIPPED-DOWN SECRET
Mirren praised writer Lynda La Plante for creating an intricate character, something she wasn't expecting when signing on for the role. Helen said she "came of age as an actor" while working on the project.
"After the first week of shooting, Lynda came up to me and said, 'You're smiling too much. Don't smile,' and I thought, 'She's absolutely right,'" Mirren told The Luvvie. "One was used, as a woman, to making people feel at ease. But Jane Tennison was, 'No, give it to me.'"
"The other great thing I learned from a policewoman was to never fold your arms, because folding your arms is defensive. And the other thing she said, and it's absolutely true, 'Touch people.' Politicians, especially in big summit conferences, they're all vying with each other to be the first one to touch the other one because then they've got the initiative and the other one becomes the lower one."
Starring on the two-part series also paved the way for Mirren's Academy Award role.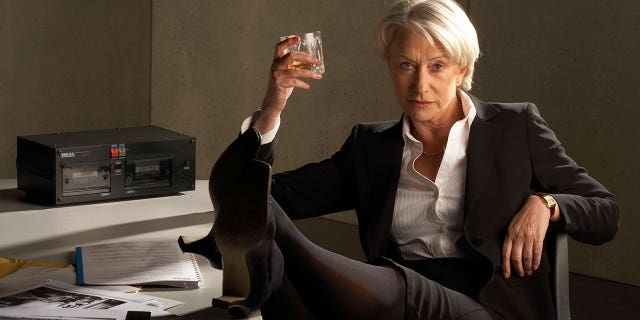 Her character, Jane Tennison, solved crimes with the Greater London's Metropolitan Police Service. (Nicky Johnston/TV Times/Future Publishing via Getty Images)
"It came about because of Andy Harries, who was the producer of the last 'Prime Suspect,'" she said. "We were having our first read through, and when you've got a big cast like that, I always try to get there first, so I can greet people as they come in and just be friendly.
CLICK HERE TO SIGN UP FOR THE ENTERTAINMENT NEWSLETTER
Helen added, "The cast started coming in, and I'd be going up and saying hello to people. Andy says he was sitting there thinking, 'It's like people meeting the queen,' and then he thought, 'And she looks a bit like the queen, too.' And then he said to me, 'We should do a film about the queen.'"
Kyra Sedgwick connected with millions of fans while playing Deputy Chief Brenda Johnson during seven seasons of "The Closer."
She almost didn't even read the part, though: "My manager told me about it for three months, and I said, 'Don't send it. I'm not going to do it because it's in LA,' and I wasn't looking to do TV," she told The Hollywood Reporter.
"Finally, she said, 'It's like 'Prime Suspect.' I've worked with Helen Mirren several times, so my manager hooked me with that one. I read the script and thought it was great."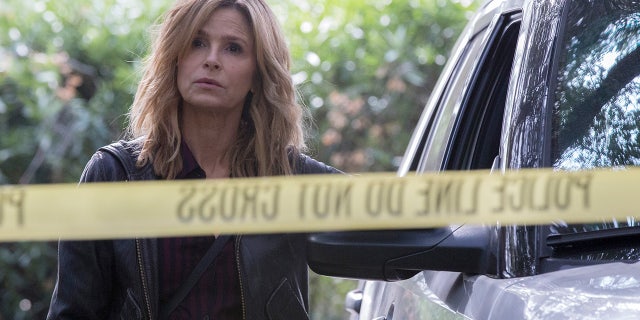 Kyra Sedgwick played a LAPD deputy chief on "The Closer." (Paul Sarkis/ABC)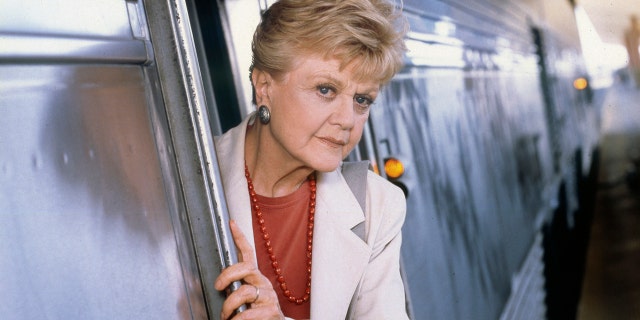 Lansbury portrayed a writer turned amateur detective on the hit TV drama, "Murder, She Wrote." (Randy Marcus/NBCU Photo Bank)
The debut of "The Closer" was watched by more than 7 million people and was the top-rated premiere episode ever of original scripted series' on basic cable, according to Nielsen Media Research. The second and third seasons both broke previous records set by the show. She earned a Golden Globe and Emmy award for her portrayal as Johnson, a CIA-trained, LAPD interrogator known for solving cases and obtaining confessions.
"I was 39 when "The Closer" started. It certainly wasn't intentional for me to have a groundbreaking show," she said. "It just happened to be. The idea that I can have anything to do with the possibility of more opportunities opening up for women is wonderful."
Dame Angela Lansbury starred as mystery writer and amateur detective Jessica Fletcher in the CBS mystery series "Murder, She Wrote" for 12 seasons from 1984-1996.
As an amateur sleuth, the character often found herself in the middle of several murder investigations in her fictional town in Maine and throughout the rest of the United States.
The popular show also starred Tom Bosley, William Windom and Ron Masak.
Through the 12-year run and 256 episodes, Lansbury was nominated for 10 Golden Globes and 18 Emmy Awards, winning six Golden Globes. These nominations earned her the record for the most Golden Globe nominations and wins for best actress in a television drama series and the most Emmy nominations for outstanding lead actress in a drama series.
After solving her last TV murder, Lansbury continued to pursue roles on television and Broadway. In 2014, she was made a Dame by Queen Elizabeth II at Windsor Castle.
She also earned an honorary Oscar for Lifetime Achievement in Motion Pictures in addition to being a National Medal of Arts recipient and a Kennedy Center Honoree.
Lansbury died at home in Los Angeles in October 2022. She was 96.