Some Amish communities are adopting electric bicycles (e-bikes) for quick and efficient travel.
Multiple electric transportation publications have reported that members of select Amish groups are riding e-bikes instead of the horse-drawn carriages that have long been associated with the traditionalist Anabaptist Christian church.
The travel shift might surprise non-Amish Americans since many believe all Amish communities are against electricity and technology for religious reasons, but that's not true for all members.
GUIDE TO AMISH COUNTRY YOU'VE NEVER SEEN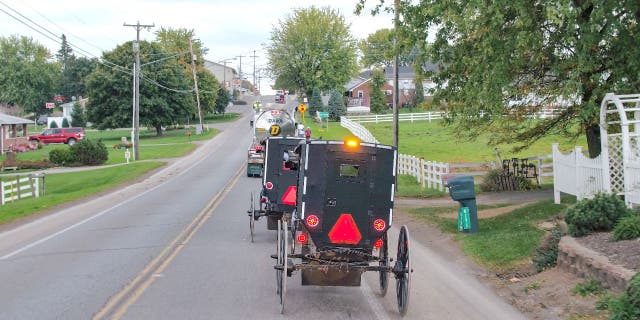 In this Oct. 18 2016 photo, two Amish horse-drawn buggies travel along the street through a bucolic town in Millersburg, Ohio. Both of the buggies have been equipped with rear lights. (iStock)
"The technology should not be an intrusion into the home, but rather serve the social purposes and goals of the group," the tourism board continued. "With that in mind, the Amish often re-purpose the technology, in a sense, to align with their community beliefs."
SAY GOODBYE TO PEDALING WITH THESE E-BIKES OF 2023
Ohio's Amish Country, an online and magazine publication that reports on Amish living in the Buckeye State, which is home to about 76,200 Amish residents (according to Ohio.gov), says electricity use is less common in Ohio Amish groups, but there are some caveats.
PENNSYLVANIA IS ROLLING THE DICE WITH A CASINO IN THE HEART OF AMISH COUNTRY
Some Amish groups have reportedly adopted windmills that convert wind power to electricity.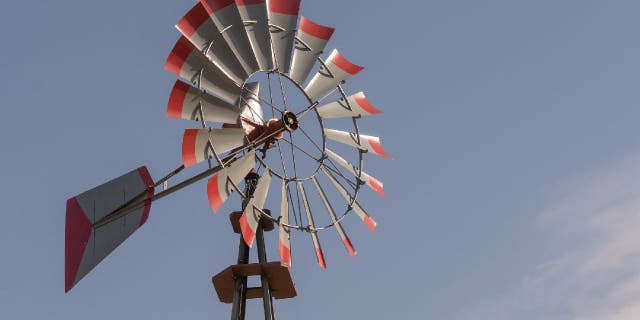 Some Amish farms have windmills that produce energy for powering up appliances and gadgets. (iStock)
"This is acceptable because it is self-reliance on a natural, Godly source of power as opposed to being connected to our power lines with their man-made electricity," Ohio's Amish Country wrote on its FAQ page.
"It depends on the group because I know that my community does not allow any bicycles at all," said Gingerich who now resides in Midland, Texas.
"I think they think that [nonelectric and electric bikes are] considered modern technology because the English (non-Amish) people use it," she continued.
Gingerich said it's usually the church who will decide whether the community should use modern tech, and she knows of some Amish sects, like the Old Order Amish subgroup and Amish communities in Pennsylvania, who have ridden nonelectric bikes.
How are e-bikes being used in Amish communities?
Fox News Digital reached out to multiple e-bike shop owners and sources for comment but did not immediately receive responses.
Recent articles from Electrek, an electric transportation news website, and The Cool Down, a climate and technology news website, both cite a 2021 article from This E-Bike Life to illustrate how electric bicycles are being used in select Amish communities.
OHIO DEPUTY ENCOUNTERS 'DRUNK AMISH GUY' SLUMPED OVER IN MOVING BUGGY: 'THE HORSE KNOWS HOW TO GET HOME'
Certain Amish groups appear to have followed this buying trend and have fit e-bikes into their lifestyle because it's a faster means of transportation that has a low environmental impact, according to Pierce.
CLICK HERE TO SIGN UP FOR OUR LIFESTYLE NEWSLETTER
"From different sources that deal mainly in the bikes segment, we came to know that Amish are not only buying e-bikes but also selling them," said Pierce, who has served more than 220,000 customers nationwide in the last two decades.
FOLLOW US ON FACEBOOK FOR MORE FOX LIFESTYLE NEWS
Ammann's religious teachings encouraged separation from state churches, excommunication for liars and foot-washing during worship services, according to Britannica. Homogenous styling became a staple for Ammann's followers, which included plain and modest dressing, untrimmed beards and hair and no jewelry.
Amish communities formed in Switzerland, France, Germany, Holland and Russia, but Ammann's teachings caused a schism among his coreligionists, according to Britannica.
As of June 2022, there are approximately 373,620 Amish adults and children living in the U.S. across 32 states, according to a population estimate published by Elizabethtown College, a private four-year college in Pennsylvania.