A man who allegedly piloted a small boat packed with migrants that capsized while crossing the English Channel in December has been charged with four counts of manslaughter.
Ibrahima Bah, 19, is due to appear at Folkestone Magistrates' Court on Thursday to face the charges related to the Dec. 14, 2022 capsizing. His nationality was not made public.
BRITAIN TO HOUSE 500 MIGRANTS ON BARGE DOCKED OFF ENGLISH COAST
Helicopters and lifeboats that responded to a distress call in the night rescued 39 people — many plucked from the frigid waters — off the coast of southern England, authorities said. Four bodies were recovered.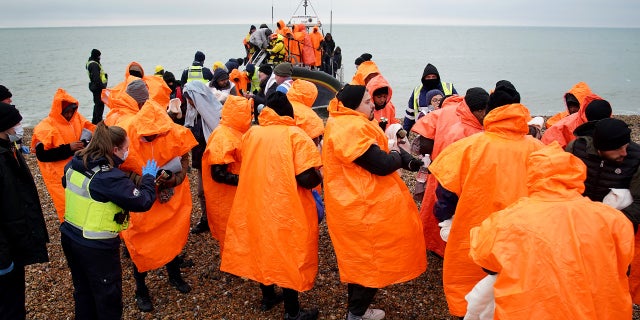 A group of people thought to be migrants are brought in to Dungeness, Kent, after being rescued by the RNLI following a small boat incident in the Channel. The migrants pictured are not among those rescued from the capsized vessel believed to have been captained by Ibrahima Bah.
(Gareth Fuller/PA Images via Getty Images))
The British government has been trying to dissuade migrants from coming to the U.K. and has been trying to stop smugglers, who charge thousands of dollars per person to cross the Channel in flimsy inflatable boats. At least 27 people died when a boat sank in November 2021.
UK, FRANCE SIGN AGREEMENT IN ATTEMPT TO STOP MIGRANTS FROM CROSSING ENGLISH CHANNEL
Bah also faces a charge of facilitating attempted illegal entry into the United Kingdom. He is due to stand trial for that crime later this year.
The Conservative government's controversial policy to stop small boats includes plans to bar asylum claims by anyone who reaches the U.K. by unauthorized means and would deport migrants back home or to a third country, such as Rwanda.
CLICK HERE TO GET THE FOX NEWS APP
More than 45,000 people arrived in Britain by boat from northern France in 2022, up from 28,000 in 2021 and 8,500 in 2020.