A federal judge has denied a second request from Alex Murdaugh's convicted accomplice Russell Laffitte for a new trial based on Murdaugh's testimony during his double murder trial in Colleton County, South Carolina.
Laffitte, the former CEO of Palmetto State Bank, was convicted in November 2022 on six financial crimes charges related to Murdaugh's decade-long corruption schemes totaling millions of dollars, but Murdaugh testified during his murder trial that Laffitte was innocent.
"Russell Laffitte never conspired with me to do anything," Murdaugh testified prior to being convicted for the June 2021 murders of his wife, Maggie, and youngest son, Paul.
But South Carolina Judge Richard Mark Gergel says Murdaugh is not a "credible witness."
ALEX MURDAUGH'S ACCOMPLICE RUSSELL LAFFITTE FILES SECOND MOTION FOR NEW TRIAL AFTER MURDAUGH'S GUILTY VERDICT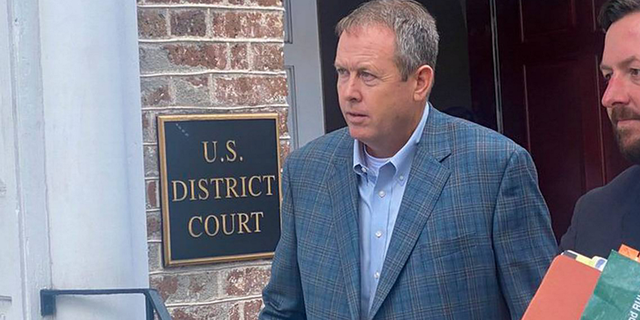 Former Palmetto State Bank CEO Russell Laffitte exits federal court in Charleston, South Carolina, on Sept. 6. (John Monk/The State/Tribune News Service via Getty Images)
"Evidence offered during the Defendant's trial established without question that Murdaugh is a serial liar and fraudster who stole from his clients and law partners," the judge wrote in a Wednesday order denying Laffitte's request for a new trial. "He now stands convicted of the double homicide of his wife and son. It is difficult to imagine a less credible witness under these circumstances."
ALEX MURDAUGH'S FRIEND RUSSELL LAFFITTE DENIED NEW TRIAL FOR FINANCIAL CRIMES
South Carolina prosecutors have said Murdaugh killed his wife and son to divert attention from his 99 financial crimes charges stemming from 19 separate indictments and totaling nearly $9 million. He is accused of embezzling money from his family's generations-old personal injury law firm and its clients.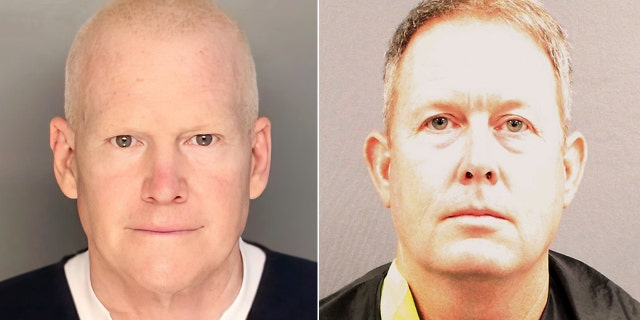 New mugshots for Alex Murdaugh and Russell Laffitte from Wednesday, July 20, 2022. (Richland County Detention Center/Kershaw County Detention Center)
A court determined in November 2022 that Laffitte helped Murdaugh steal those funds, though Laffittte maintains his innocence.
PROSECUTORS WILL TIE ALEX MURDAUGH 'UP LIKE A PRETZEL' DURING FINANCIAL CRIMES TRIAL, VICTIMS' ATTORNEY SAYS
While an initial indictment charging Laffitte did not mention Murdaugh by name, it said the former bank CEO collected nearly $392,000 in fees for serving as a personal representative for the six clients of a "personal injury attorney at a law firm in Hampton, South Carolina," according to a July press release from the U.S. Attorney's Office, District of South Carolina.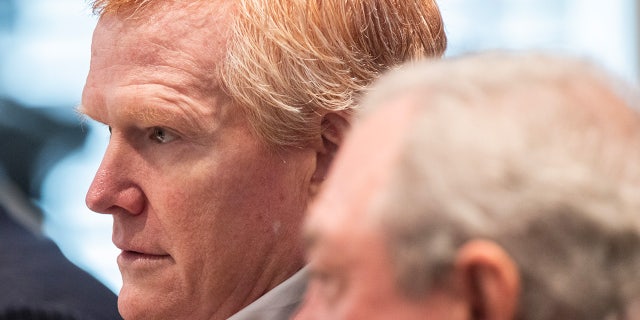 Alex Murdaugh listens to closing arguments in his trial for murder at the Colleton County Courthouse on March 1, 2023. ( Joshua Boucher/The State/Pool)
CLICK HERE TO GET THE FOX NEWS APP
Laffitte transferred personal loans to himself and Murdaugh from the six conservator accounts, and they used the funds for personal expenses, prosecutors said during his trial last year.
The Laffitte and Murdaugh families rose to South Carolina prominence around the same time in the early 20th century, when the Laffittes founded Palmetto State Bank, and the Murdaugh family began Peters Murdaugh Parker Eltzroth & Detrick – now known as The Parker Law Group.