Artificial intelligence (AI) is helping people see the world in new ways every day, including the blind, who find AI helping them navigate the world with greater ease and more options than they previously could have imagined.
"I think it will lead to quality of life changes," Chris Danielsen, director of public relations for the National Federation of the Blind, told Fox News Digital. "I think Braille will always be important – let me just say that we're big advocates of Braille and the National Federation of the Blind – but … what I think we're going to see is just that blind people can get more information about their environment."
The blind community has already utilized new technology with AI-adjacent capabilities for a number of years, notably through the app Be My Eyes, which launched in 2015 and utilized computer vision, which analyzes images and identifies objects within them.
The newest version of Be My Eyes utilizes ChatGPT-4's multimodal capability to better inspect images and interpret them for the user, TechCrunch reported.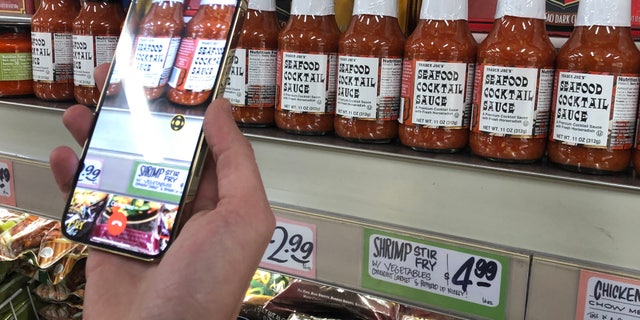 A customer uses the Be My Eyes app while shopping at a grocery store in Los Angeles on Jan. 21, 2021. (Dania Maxwell / Los Angeles Times via Getty Images)
Danielsen said questions remain about the technology – particularly what information it stores, if any – saying that "we need the information about the environment," but that "doesn't mean we want to give up our privacy," noting the heavy reliance on computer vision and therefore mapping out any area in which a blind person may find themselves.
The use of ChatGPT will greatly empower some of the text-to-speech capabilities of existing technology as well as improve screen readers. The most important technological strides will come from the ability to communicate the information that AI reads and interprets to the blind user, Danielsen said.
AI EXPERT WARNS PERSONALIZED CHATBOT TUTORS WILL LIKELY REVOLUTIONIZE EDUCATION AND BENEFIT STUDENTS
HOW AI COULD CHANGE THE FUTURE OF PREGNANCIES – AND POSSIBLY DO A BETTER JOB THAN DOCTORS CAN
"So, I do think computer vision is important, but I wonder if it's actually seeing what we want to do versus just getting the information."
He says part of the challenge is that the blind community still faces the assumption of a very low expectation for blind people to function independently, despite many of them doing so at a highly functional level even before the introduction of technology.
"It's often assumed that because you're blind, your experience of the world and your ability to interpret your environment is just automatically inferior and that you can never really be sort of a fully functioning human being," he added, saying that "every day" he meets someone who assumes he "can't do something pretty basic" because of his condition.
"When we talk about our struggles, our biggest struggle is actually with attitudes … when we talk about the struggles of blind people, I think our biggest problem is that people don't understand what those struggles actually are and are not."