An 8-year-old Chinese boy was beaten to death by a martial arts instructor a day after enrolling in the class.
The child, who has not been identified, joined the Chongde Juying Martial Arts Sports Club in Qingdao, Shandong, to take a self-defense class earlier this month, but died a day after joining the class as a result of injuries sustained at the club, according to a report from the Messenger, who cited Chinese media.
According to the report, the day after the boy joined the class, his parents were sent a video of his training that alarmed them as their son looked pale and had multiple bruises.
TAIWANESE BOY, 7, DIES AFTER JUDO INSTRUCTOR, CLASSMATES BODY-SLAM HIM NEARLY 30 TIMES, REPORT SAYS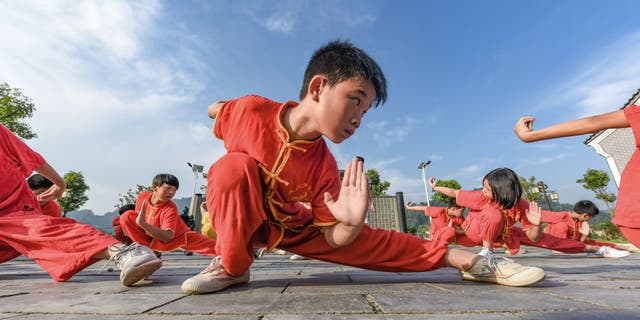 Children from a Shaolin martial arts institute practice kung fu at a village in Suichuan County in Ji'an, Jiangxi province of China, on Aug. 13, 2017. (Visual China Group via Getty Images/Visual China Group via Getty Images)
CLICK HERE TO GET THE FOX NEWS APP
The incident also reportedly resulted in multiple arrests, with the Chenyang branch of Qingdao's Public Security Bureau saying three people connected to the club, which included the club's owners, have been arrested in connection to the incident, and will face criminal proceedings related to "intentional harm leading to death."
Meanwhile, the club has been shutdown as the investigation unfolds.