Spoiler alert! Season 2 of "Welcome to Wrexham" is set to get the Hollywood ending the first one failed to deliver.
This being Wrexham, however, a last-minute plot twist isn't out of the question.
It's hard to imagine that even the Welsh soccer team's A-list owners, Ryan Reynolds and Rob McElhenney, could have anticipated the edge-of-your-seat, unscripted spectacle created by this unlikely union.
ITALIAN SOCCER STAR INJURED IN CAR-TRAM COLLISION EXPECTED TO MISS TIME
"That was the most dramatic thing I've ever seen in my life," a breathless Reynolds said after the 3-2 win over Notts County that put Wrexham on the brink of promotion from the National League, five steps below the Premier League. "I will never be the same again."
When Tinseltown met a former mining town in Wales, sparks flew. And even if Reynolds and McElhenney recognized the entertainment value of a fly-on-the-wall documentary about a historic but down-on-its-luck soccer team run by two actors learning the ropes of sports club ownership, the end product has probably exceeded all expectations.
That is, apart from the on-field success the pair set out to deliver after completing their $2.5 million takeover in 2021.
A win over Boreham Wood on Saturday would secure the league title and, with it, automatic promotion to the fourth division of English soccer after a 15-year wait.
"There's a lot of pain the supporters have gone through," Wrexham manager Phil Parkinson told The Associated Press. "We've got a great opportunity to finish the job this week. We know it's not easy, but it is in our hands."
A routine three points at the Racecourse Ground on Saturday would almost feel too straightforward given the wild ride Wrexham has been on over the past two years.
The club, one of only five Welsh teams in the English soccer system, missed out on promotion last season after a thrilling but heartbreaking 5-4 loss to Grimsby in the playoffs. To make matters worse, Wrexham had ended the regular season 11 points and four places above Grimsby in the standings.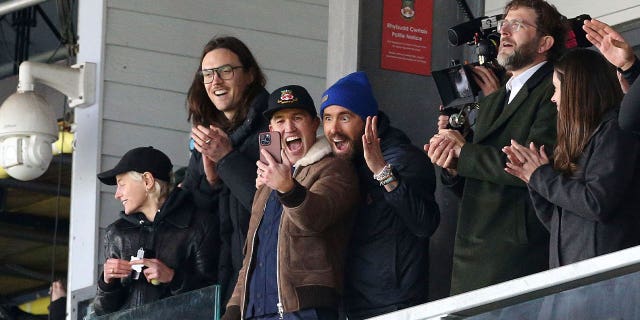 Wrexham owners Ryan Reynolds, center right, and Rob McElhenney, center left, react during the National League match between Wrexham and Notts County at Wrexham, Wales, on April 10, 2023.  (Barrington Coombs/PA via AP, File)
There was also agony in the final of the FA Trophy at Wembley Stadium, when Reynolds and McElhenney watched from the corporate seats alongside celebrity guests David Beckham, Will Ferrell and Jason Sudeikis as Bromley ruined their party with a 1-0 victory.
There have been other games that have shredded the nerves and defied logic, too, such as the 6-5 victory over last-place Dover last season.
But perhaps nothing can compare to the Notts County game, which was effectively a title-decider with both teams going into the match even at the top of the standings with 100 points each and only the league champion guaranteed promotion. In front of 10,000 fans at the Racecourse, Wrexham led 3-2 deep into added time when the visitors were awarded a penalty and the chance to score an equalizer that would keep them in first place on goal difference.
Flashback to a couple weeks earlier, when Parkinson messaged the owners about a retired former Manchester United goalkeeper who might be convinced to make a comeback.
That turned out to be the right call.
With 6 minutes, 28 seconds of stoppage time on the clock, 40-year-old Ben Foster leapt to his right to push away Cedwyn Scott's penalty kick and spark frenzied celebrations on the field and in the crowd. In the executive seats, Reynolds and McElhenney embraced in celebration.
"If you wrote that in a script, people would put it in the bin and say that's ridiculous," Wrexham striker Ollie Palmer said. "So that's probably why it will make the documentary even better than the first one. It's great. There's been loads of fantastic occasions."
Season 2 is shaping up to be a redemption story.
PARIS SAINT-GERMAIN'S ACHRAF HAKIMI INDICTED ON RAPE CHARGES IN FRANCE FOLLOWING INVESTIGATION: REPORTS
There may be inherent entertainment in the team's failure in the first season. And while there would likely have been an audience for a show about Reynolds and McElhenney desperately floundering with calamitous results, that has never felt like the purpose of this project.
Reynolds' growing attachment to Wrexham and soccer in general is one of the show's enduring themes. After the Notts County match, the "Deadpool" star said he was grateful he had adopted the sport later in life because it would have "eaten me alive."
His arrival, along with McElhenney, has breathed new life into Wrexham's team and its community, local characters and sites because of the world-wide exposure.
If supporters, who had owned the team since 2011, needed convincing their celebrity owners were for real, so did Parkinson, who was a well-respected manager used to operating at a higher level than the fifth tier of the English game.
"I didn't know Rob and Ryan personally. I didn't know the reasons for buying the club," Parkinson said. "What they say they back up.
"I'm desperate to get over the finishing line for them. They deserve it. But, I'm sure they'll echo this, more importantly for the supporters who have followed this club through some tough times."
Leading scorer Paul Mullin was convinced to drop down a division to spearhead Wrexham's push for promotion, while Palmer, a former AFC Wimbledon striker, dropped down two divisions.
CLICK HERE TO GET THE FOX NEWS APP
"It was a massive risk," Palmer said. "I think at that point in time we were sitting eighth or ninth in the league and everything wasn't as rosy as it is now. … A lot of people really thought it was the wrong decision."
No regrets now, though.
"The atmosphere here week in, week out is incredible and it's better than most League One clubs and better than a lot of Championship clubs as well," Palmer added, speaking about the second and third divisions in English soccer.
There is little sign of Reynolds and McElhenney losing interest in the near future. A new 5,000 seat stand is being built to raise the capacity at the Racecourse Ground to 15,000.
Parkinson, however, doesn't want to look too far ahead.
"This club has got the potential to be anything," the manager said, "but we've got to be careful we don't get carried away with ourselves at all."
Palmer is less guarded.
"There's no denying that if we get into League Two next season we should be pushing for promotion (to the third division)," he said. "When I came here I said I wanted to get the club back where I came from, which is League One. We've got a fantastic squad here. We've got a League One football squad, you can't hide from that. Next season if we get into League Two, which I believe we will, we will be fighting for promotion again."